Threat for storms in South shifts eastward on Sunday
Hail, damaging winds, and isolated tornadoes will be possible on Sunday.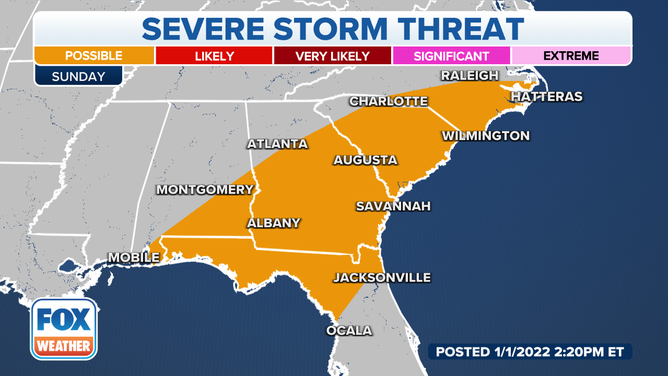 A strong cold front moving through the Southeast will again be part of the triggering mechanism for showers and thunderstorms from the Gulf Coast to the Mid-Atlantic on Sunday.
Meteorologists say where convection finds a more favorable atmosphere for development, some storms could be strong to severe with damaging winds, hail and the possibility of tornadoes.
The extent of the severe weather is expected to be limited due to the system's timing.
Areas that could see the heaviest rainfall stretch from eastern Georgia into the Carolinas, where two to as much as four inches of rain could lead to flash flooding.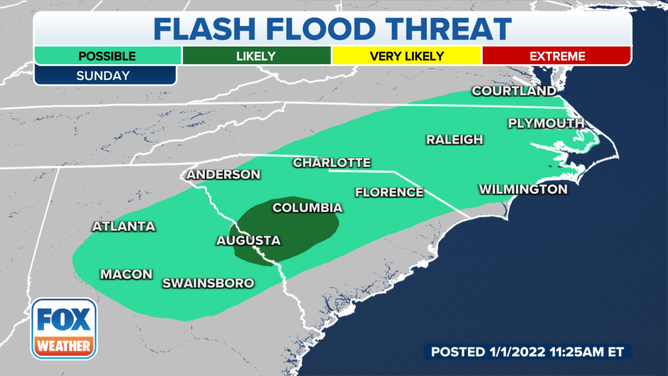 The bulk of the rains are expected to push offshore by Monday morning.
Areas that miss out on seeing the clouds and rainfall early in the day will have the chance of seeing record heat.
Coastal areas of South Carolina, Georgia and the Florida Peninsula could see temperatures reach the 80s on Sunday ahead the early workweek cool down.