Springtime system brings rain, snow to parts of Idaho, Montana on Tuesday
Another active weather pattern will return the cooler and wetter conditions to the Northwest region Thursday and into early next week
A springtime weather system is bringing a round of rain and snow to parts of Idaho and Montana on Tuesday. 
Moderate to locally heavy rain and snow will be possible through Tuesday night across southwestern Montana, especially along and south of Interstate 90, the National Weather Service said.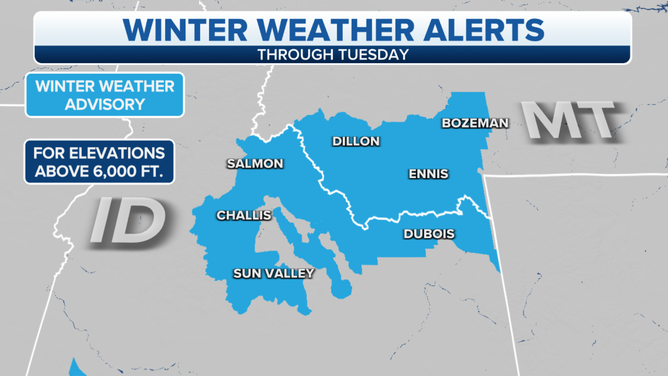 Precipitation will start as rain at the lower elevations. As a heavier band of precipitation develops, a changeover to heavy, wet snow is expected where it sets up. The most likely area for this band to set up is along a line from Grant to Dillon to Norris in Montana.
Most of the snow will remain above 6,000 feet in the highest elevations of Idaho and southern Montana, where a foot of snow is possible, with 5 to 8 inches likely below 6,000 feet in elevation.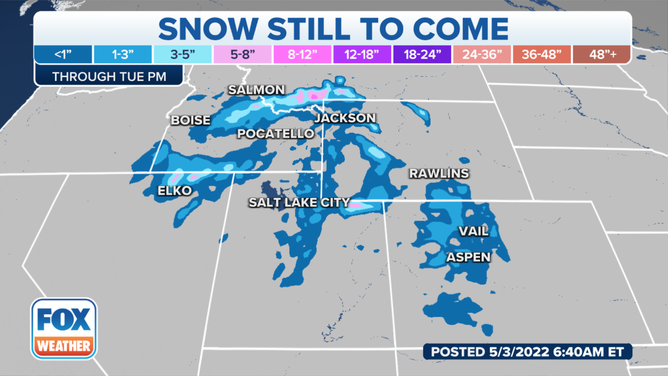 Another active weather pattern will return the cooler and wetter conditions to the Northwest region Thursday and into early next week.
Southerly winds will increase, with rain moving inland off the Pacific Northwest after midnight.
The NWS in Portland, Oregon, said the current forecast of precipitation is near a half-inch of rain for the inland valleys through Thursday night. Up to an inch of rainfall is expected over the higher terrain, with the highest elevations in the Cascades possibly seeing up to 1.5 inches.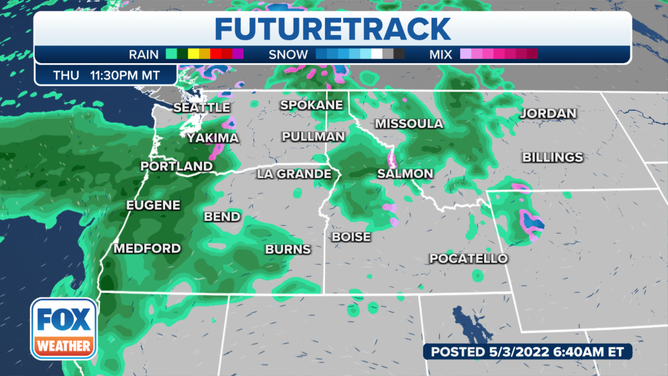 Snow levels will be near 4,000 feet over Washington and closer to 7,000 feet over the Lane County Cascades.
There is a small threat of stronger showers later in the afternoon Thursday, the NWS said.
CLICK HERE TO GET THE FOX WEATHER UPDATE PODCAST
Check back with FOX Weather for updates, and be sure to download the FOX Weather app for the latest forecast and weather alerts for your exact location, plus the 24/7 livestream of America's Weather Team.