Spring leaf growth delayed across large parts of South
Data on lilacs and honeysuckles help the National Phenology Network determine when which areas are seeing leaf growth
Even though meteorological spring is underway, leaf growth of small plants and shrubs are showing a delayed response from their dormant stage, especially in areas of the South.
The measures of an area's first leaves are based on temperatures and observations since the start of the new year.
Data collected by the USA National Phenology Network shows large parts of the country are upwards of 20 days past the start of their annual leaf production cycles, compared to average timing of the last 30 years.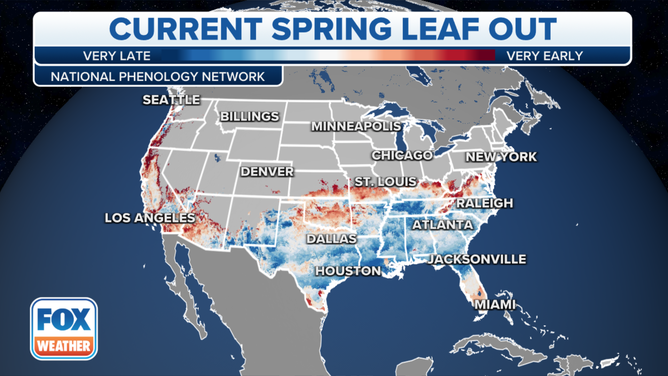 Experts pay close attention to lilacs and honeysuckles as they are some of the first plants to wake up from their winter dormancy and take part in the "leaf out" process.
"They're among the earliest shrubs that leaf out and bloom in the spring. They are the first indicator of when plants start growing and become active," Erin Posthumus, an outreach Coordinator at USA National Phenology Network, said.
Posthumus said even though temperatures might be warm now to help plant growth, recent cold snaps and the winter's temperatures might have been enough to delay development by days or even weeks.
Experts say don't worry if your area hasn't made it to the "leaf out" stage and is behind previous years, there is still plenty of time for plants to show new leaf growth.
"There's a lot of year-to-year variation that happens, and plants are adaptive to that," Posthumus said. 
SNEEZE THE MOMENT! ORLANDO RANK NO. 1 IN POLLEN NATIONWIDE
Residents in areas where the "leaf out" process is ahead of schedule might want to grab a box of tissues and get ready for the annual allergy season.
Posthumus said while the small shrubs like the lilacs and honeysuckles aren't the primary pollen producers, it is an indication of where the season is heading.
"In general, knowing when plants are blooming has implications for the allergy season. If those plants are active longer, then you could potentially have a longer allergy season," Posthumus said.
The network says they are always looking for volunteers to submit observations to help further their data models. To take part in the Nature's Notebook program, click here.