Severe storms wash out The Players Championship delaying tournament
Heavy rainfall, lightning forces players off the green for the second day
PONTE VEDRA BEACH, Fla. – Heavy rain and thunderstorms rolled through Northeast Florida this week, creating soggy conditions for The Players Championship.
Play was suspended for the second day on Friday due to heavy rain at TPC Sawgrass, and storms Saturday morning are creating even more problems. 
Due to multiple weather delays over the first two days of The Players and the ominous forecast for the weekend, PGA Tour officials expect the tournament to finish on Monday. 
"Despite grounds staff furiously squeegeeing water from the greens, the persistent precipitation finally conquered the course and players were forced off at 11:15 a.m. ET," according to PGATour.com.
The Players Championship Chief Referee Gary Young provided an update Friday afternoon after play was suspended. He said about 3 inches of rain had fallen on the course in the last 48 hours.
"The golf course has just reached a point of saturation, and unfortunately, the weather conditions are not providing us any relief," Young said.

The plan is to resume playing no earlier than 11 a.m. Saturday only if the severe weather has cleared.
Young said the rules committee would review the severe weather with the PGA meteorologist before moving forward. Once the tee teams are announced to the players, the gates to TPC will open to spectators.
Ticket holders for Friday will be able to return Saturday or Sunday if the weather permits.
TPC Sawgrass is southeast of Jacksonville, where damaging winds, flash flooding and lightning are likely Friday. Forecasters are also tracking the possibility of large hail and the potential for tornado-producing conditions.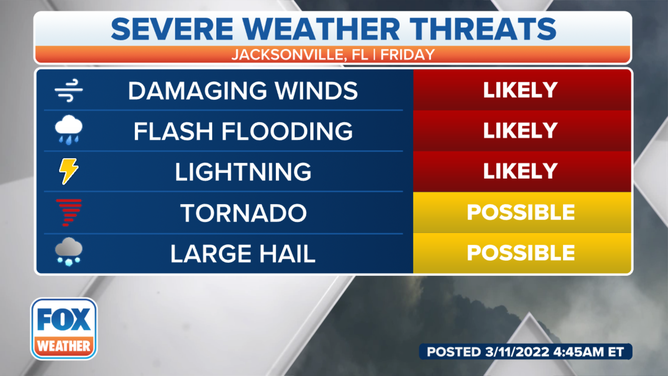 FOX Weather is tracking two severe weather episodes in the next 24 hours for Florida and the southeast.
Another round of storms and heavy rain will happen overnight into Saturday from the central Gulf Coast to the Carolinas. Several inches of rain are expected in the Jacksonville area through Saturday.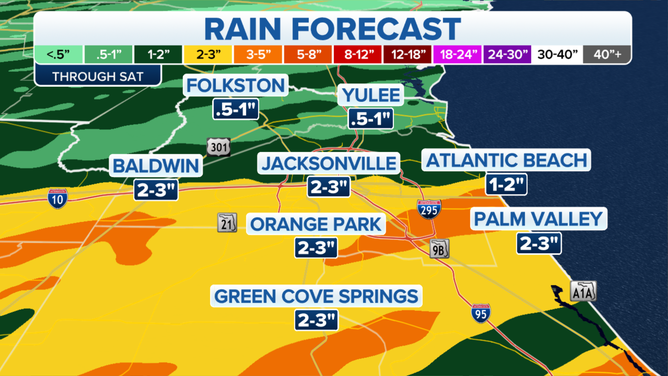 Once the front pushes through on Saturday and the clears the rain out, golfers will have to contend with a brisk northwesterly breeze.
Meteorologists say winds on Saturday afternoon could gust as high as 40 mph, which could play havoc with the golfers' scores.
If the weather continues to prevent players from teeing off through the weekend, it will shape up to be the first Monday tournament finish since 2005 when Fred Funk's won at 48 years old, according to the PGA Tour.
Young said at this point, organizers are planning for a Monday finish.
"We are very confident at this point. We're into a Monday finish. I'll tell you that," Young said.