Santa Barbara wildfire out of control amid 70 mph wind gusts
Strong, offshore winds sparked several wildfires Monday – Northern California still under a Fire Weather Warning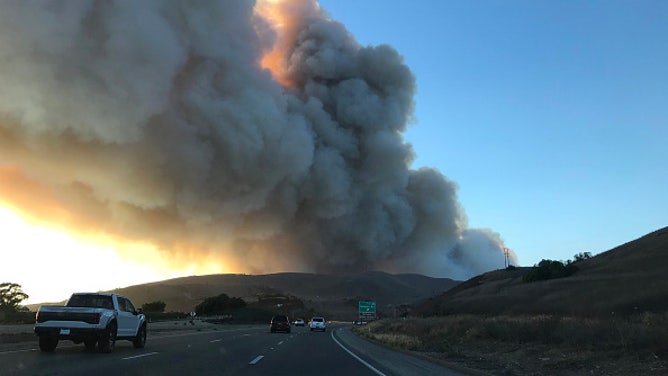 The Alisal Fire burning in California's Santa Barbara County is still 0% contained Tuesday after burning over 8,000 acres. The Los Padres National Forest Fire Department is still investigating the cause of the fire but confirms the north winds blowing 30-35 mph and gusting to 70 mph quickly spread the blaze from just above the Alisal Reservoir across four lanes of Highway 101 and toward the Gaviota coastline.  They say these lands have not been burned since the 1950s.
The California Highway Patrol still has Highway 101 closed between Buellton and Goleta.  Fire crews just miles away are guarding Ronald Reagan's ranch, and 20 miles away several buildings on the University of California, Santa Barbara campus have views of flames to the north. 
The fire producing so much smoke the GOES-West satellite took this from space.  Look for the smoke plume streaming south just below the arrow.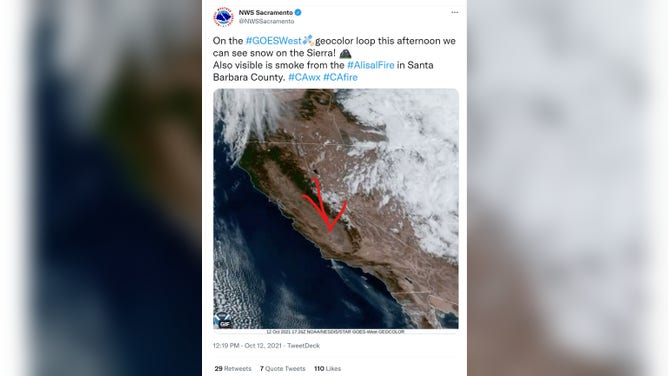 Winds kept firefighting, air tanker planes grounded until late Tuesday afternoon.  Only helicopters doused flames and dry bush late Monday and into early Tuesday.   The fire is burning dense chaparral (shrubby, drought-tolerant plants). 
The county's emergency managers issued mandatory evacuations for three canyons to the west of the fire as well as the El Capitan State Park.  Santa Barbara County Fire says the fire still threatens 100-200 structures.
Santa Barbara County is under a Wind Advisory through 9 p.m..  The 600 firefighters battling the fire can expect northwest winds 15 – 25 mph gusting to 35 mph.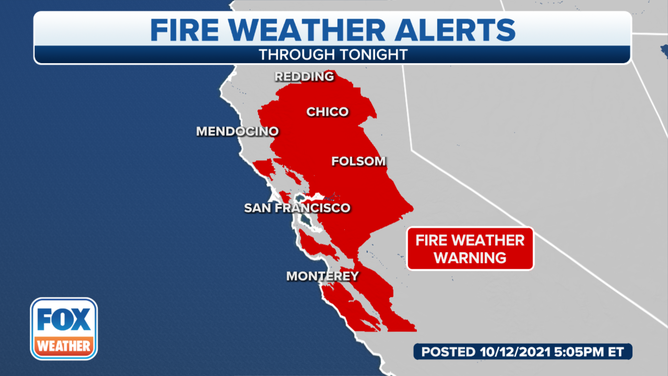 A good portion of Northern California remains under a Fire Weather Warning through this evening including the San Francisco Bay Area's mountains, the Sacramento and San Joaquin Valleys, Sierra Nevada Foothills and north to Mt. Shasta.  
Those areas are expecting northeast winds gusting to 40 mph Tuesday night with 10-20% relative humidity.  The low pressure area responsible for the strong, offshore winds moves into the Rockies overnight which will mean winds calming and rising relative humidity.  
The National Weather Service, however, just issued another Fire Weather Warning for the same Northern California area on Thursday.  FOX Weather forecasts slightly lighter winds, northeast 20-25 mph winds with 6-16% relative humidity.