Watch: Car gets swallowed by a Salt Lake City cave-in
The fire department filmed as the car slipped under the surface of the water. No one was hurt.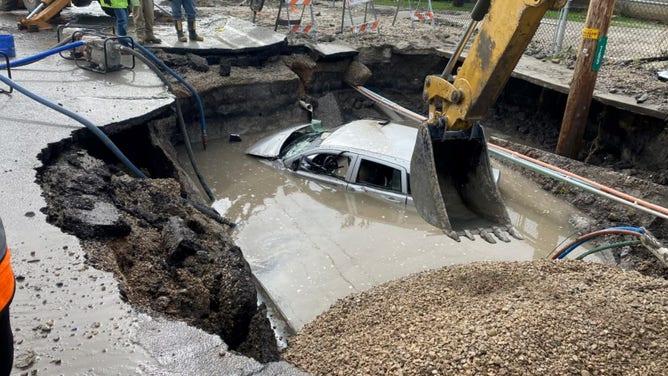 SALT LAKE CITY – A cave-in early Tuesday morning completely swallowed a car on a Salt Lake City road. Shocked neighbors and first responders watched as the vehicle slipped below the surface of the water.
A water main break quickly eroded the ground under a car that fell into the 7-foot deep void. Look at the picture to see how much earth was cleared away by the torrent.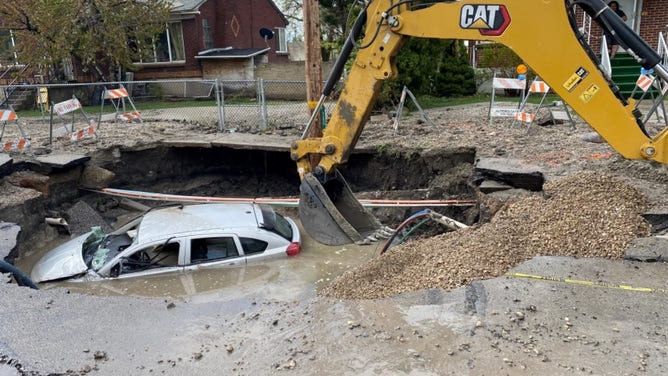 The car actually blocked the break and crews had to drain the hole and remove the wreck before they could repair the main and restore water service to the block.
The Salt Lake City Police, Department of Public Utilities and an excavator worked together to remove the fully submerged Mercedes. Falling into the hole took just minutes while retrieval took hours.
The Salt Lake City Fire Department posted video of the car shaking violently before being pulled under.
Gravity pulled the car, engine first into the sinkhole. Take a look at the near geyser of air escaping from the car and erupting on the surface.

The street flooded up to mailbox level, almost four feet off the ground. In addition to the underwater car, 6 homes flooded.
Utility crews had to pump the water out of the what they called a sinkhole before they could reach the car.
The entire block was without power and water for nearly 8 hours after the car was removed. Crews repaired the 16-inch water line that was nearly 40 years old, according to the SLCDPU.
The Mayor Tweeted that repairs would take up to eight hours after the car was removed. The outage forced the entire block to clean up their homes without water.
No one was injured during the collapse or cleanup.