Rain aids firefighters battling Florida Panhandle wild fires
Bertha Swamp fire containment improving after significant rainfall
Following more than a week of battling multiple wildfires fueled by wind and hurricane debris, Florida Forest Service firefighters are finally seeing some relief thanks to rainfall in the Florida Panhandle.
The Bertha Swamp Fire started last week and quickly grew into Gulf, Bay and Calhoun counties. After two additional wildfires broke out, the three fires became known as the Chipola Complex Fires.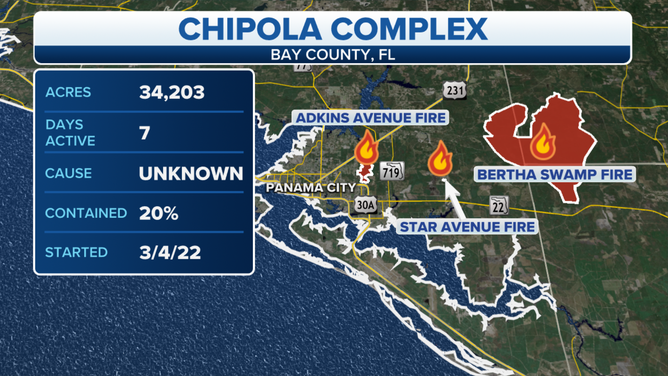 Rain arrived Wednesday and Thursday at the Panhandle, helping firefighters grow their containment lines around the Bertha Fire. Still, Florida Forest Service officials warned the substantial debris from Hurricane Michael in 2018 will remain a wildfire threat for some time.
SEVERE STORMS, INCLUDING TORNADOES, AND FLASH FLOODING TAKE AIM AT SOUTHEAST THROUGH SATURDAY
"While the significant rainfall has improved current conditions, the exponential volume of dead trees and vegetation left behind from Hurricane Michael will remain a wildfire threat in the Panhandle," the FFS wrote in an update. "The Chipola Complex is the largest wildfire since Michael hit the area in 2018. Without additional notable rainfall, the debris on the ground will dry out quickly and serve as fuel for wildfires."
As of Thursday morning, the Bertha Swamp Fire containment increased from 10% to 20%. The fire has consumed 33,121 acres. The Adkins Avenue Fire is 875 acres and 85% contained. The Star Avenue Fire is 197 acres and 95% contained.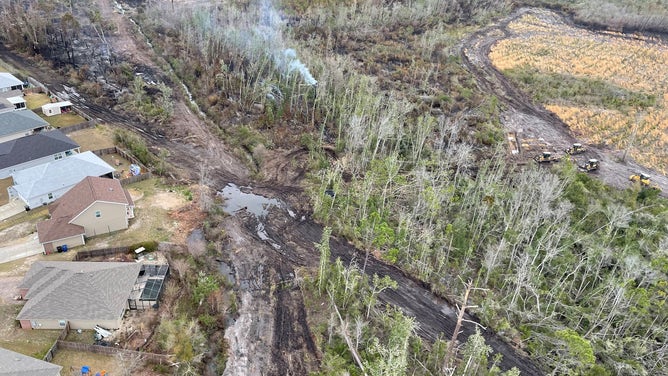 Aerial photos shared by the FFS showed the burn scar of the fires and how close the flames were to homes.
All evacuation orders were lifted Wednesday in the Bear Creek community. 
RECORD COLD EXPECTED ACROSS SOUTHEAST THIS WEEKEND IN WAKE OF 'BOMB CYCLONE'
Bay County Emergency Services warned that a burn ban remains in effect for Bay, Gulf and Calhoun counties even with the rain.
According to the Florida Forest Service, there are currently more than 90 fires burning nearly 37,000 acres across the Sunshine State.