Possible tornadoes strike Kansas, Oklahoma Tuesday night
A half-dozen tornadoes were reported from Oklahoma to Kansas
FORD, Ks. -- Multiple tornadoes were reported across parts of Oklahoma and Kansas on Tuesday night.
The Storm Prediction Center tallied six reports of tornadoes late Tuesday into early Wednesday. The first one was reported at 7:30 p.m. Central in Wallace, Kansas, hitting a golf course and causing power outages on the south side of Sharon Springs.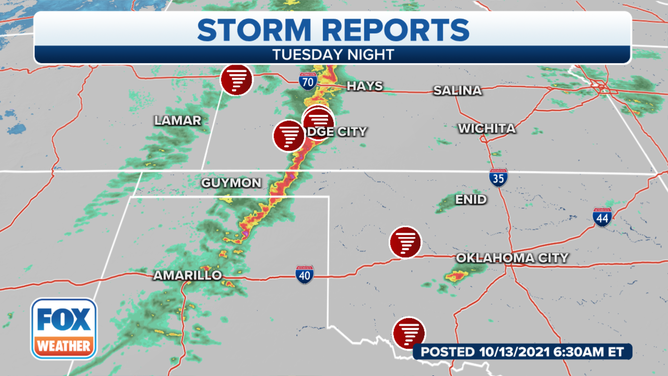 Two reported tornadoes in Oklahoma also downed power lines and caused damage near Clinton and Frederick. Several hangars received heavy damage at the Clinton Regional Airport, according to Steven Anderson, a news photographer and drone pilot at FOX25 in Oklahoma City.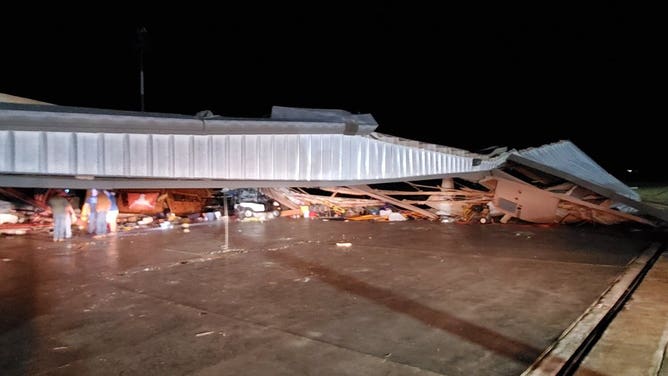 Three other tornadoes were reported in Kansas about 9:30 p.m. Central. Damage was reported to two barns, along with a gas leak in Ford about an hour later, the SPC said.
A line of strong storms continued to move eastward across the Oklahoma City metro area early Wednesday morning. A Tornado Warning was issued by the National Weather Service about 5 a.m. Central for Canadian and Oklahoma counties.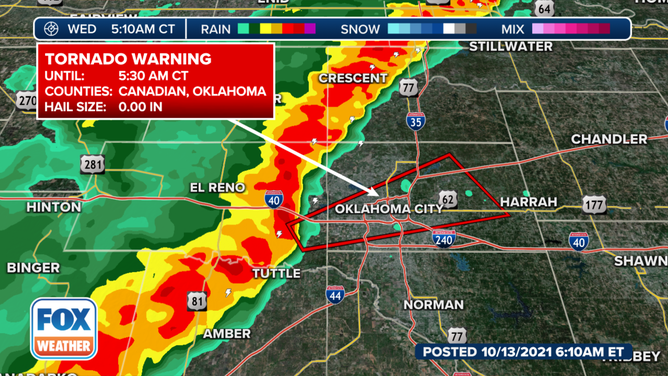 Storm chasers in Oklahoma City found significant damage Wednesday morning at some neighborhood homes and a pickup on its side. FOX25 reported there was a brief area of spin-up near Mustang, which spurred a Tornado Warning for residents in Oklahoma City. It left nearly 2,000 people without power, along with tree and limb damage.
Oklahoma City Mayor David Holt said there were no reported injuries and no significant power outages from the storm. 
"There is structural damage to some roofs in SW OKC near SW 49th & Czech Hall Rd, as well as tree damage along the track of the storm. All in all, we're okay," he said in a tweet.