Pair of clipper systems set to bring snow to upper Midwest, Great Lakes
Anywhere from 3 to 6 inches of snow is expected across portions of northern Minnesota, northern Michigan and downwind of lakes Erie and Ontario
A pair of clipper systems is set to bring a few inches of snow to the upper Midwest and Great Lakes during the second half of the workweek.
The National Weather Service in Duluth, Minnesota, said there is a chance for light snow or a wintry mix over the northern portion of state Tuesday, with chances increasing Tuesday evening and overnight across the rest of the area. The precipitation will become all light snow from west to east into Wednesday. 
Light snow or flurries will linger on Wednesday, with chances highest in the snowbelt along the south shore of Lake Superior, the NWS said. Snowfall amounts will range from a dusting to about 4 inches. The higher amounts will occur in far northern Minnesota and in the snowbelt along the south shore of Lake Superior.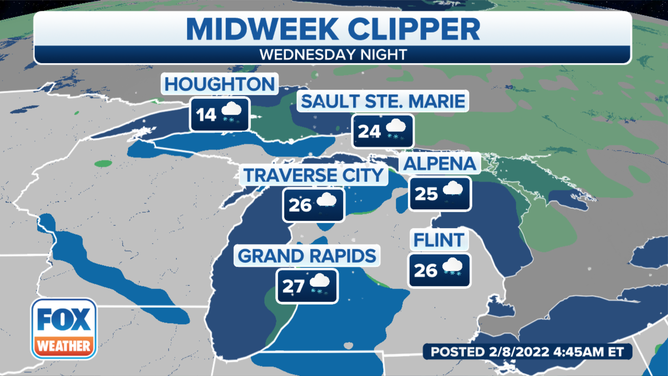 The system will also bring gusty winds to the Northern Plains, as Wind Advisories are in effect in the Dakotas for gusts up to 50 mph that will also usher in colder air.
A second, stronger clipper will dive into the upper Midwest and Great Lakes for Thursday and Friday. The NWS said lake-effect snow will also occur in the typical snowbelts downwind of the Great Lakes, adding to snowfall amounts there.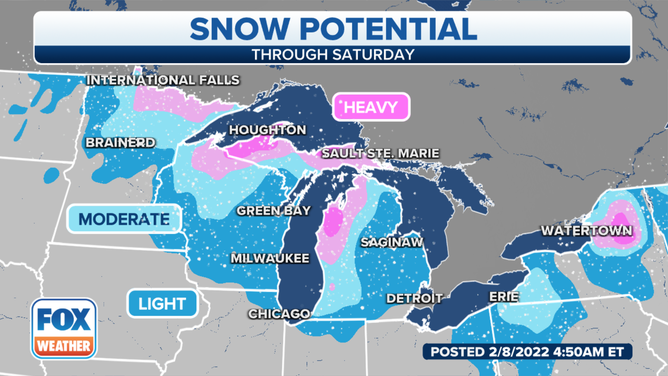 Anywhere from 3 to 6 inches of snow is expected across portions of northern Minnesota, northern Michigan and downwind of lakes Erie and Ontario.
The NWS in Gaylord, Michigan, said after the chance for some freezing drizzle and flurries Tuesday night, accumulating snow will return to northern Michigan beginning Wednesday morning. The best chance for accumulating snow will come Wednesday evening into Thursday morning across areas east of Grand Traverse Bay.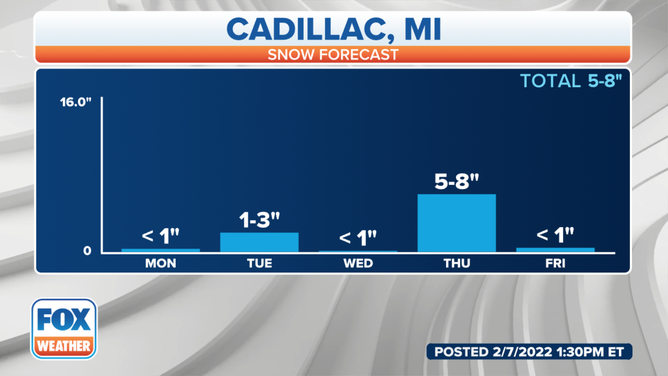 Colder air returns behind the system, with highs dropping into the teens and lows below zero by Saturday.
Most computer forecast models have the system fizzling out as it reaches the Northeast, with just a few lingering rain and snow showers possible into the weekend.