Oh, hail no! Strong storms dump hail on parts of Southern California
After days of record heat, Southern California looked more like a winter wonderland Tuesday
Los Angeles has seen it all this February – from record heat to wildfires, to the second-warmest Super Bowl. Now, you can add a hailstorm to that list.
Aerial footage showed areas of Los Angeles and Orange counties that appeared to be covered in snow, including the iconic Rose Bowl. In reality, that blanket of white was actually hailstones that fell from a strong storm that moved through the region Tuesday.
There were reports of mothball-sized hail that covered lawns and streets from Pasadena to Irvine.
Authors of several social media posts said they could not believe the frosty scenes after almost a week of temperatures in the 80s, and even a couple 90s, across the Golden State. 
Dozens of heat records were broken from the middle of last week through the weekend.
Low humidity and gusty Santa Ana winds were blamed for several wildfires, one of which destroyed two homes.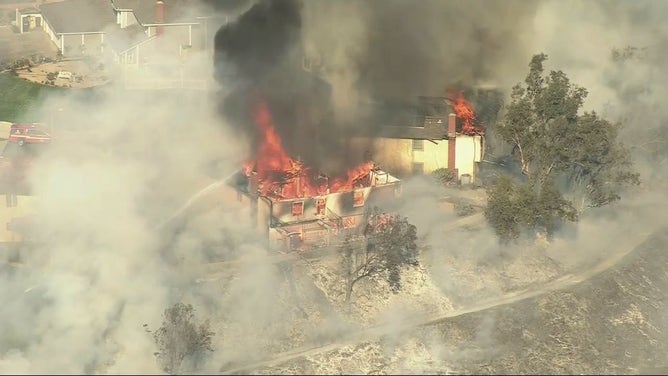 An upper-level low, a chunk of energy high in the atmosphere, plus afternoon heating triggered thunderstorms which produced the hail.
Lifeguards across Los Angeles quickly closed and emptied the beaches for safety.
Snow levels fell to 3,500 feet dusting freeways like Interstate 5 through the mountains and passes. 
FOX Weather is calling for a much calmer Wednesday with highs in the 60s. The Santa Ana winds return late Wednesday into Friday. The strong winds will push temperatures into the 70s nearing 80 for the Southland.