NFL season kickoff: What to know for the first game of 2022
Temperatures are expected to be around 80 degrees for kickoff, and scattered storms will be in the vicinity.
CANTON, Ohio – The 2022 – 2023 NFL season is just hours away, and the first game could kick off under stormy skies at Benson Hall of Fame Stadium in Northeast Ohio.
The Las Vegas Raiders are set to take on the Jacksonville Jaguars at the league's annual Hall of Fame game at 8 p.m. Thursday.
Most of the day is expected to be sunny, with temperatures in the upper 80s to near 90 degrees, but the heat will be one of the ingredients that will help showers and thunderstorms pop during the afternoon and evening.
Flood Threat
 
---
Meteorologists say the combination of warm temperatures and an advancing cold front could help trigger a few stronger storms with gusty, frequent lightning and torrential rainfall.
HOW TO WATCH FOX WEATHER ON TV
If lightning is reported within several miles of the stadium, referees will likely suspend play until National Weather Service meteorologists determine that the storm has moved out of the region. 
There are big questions on how both the players and coaches will cope with any possible weather delays.
Raiders head coach Josh McDaniels and Jaguars head coach Doug Pederson are both new to their respective teams but have plenty of NFL experience.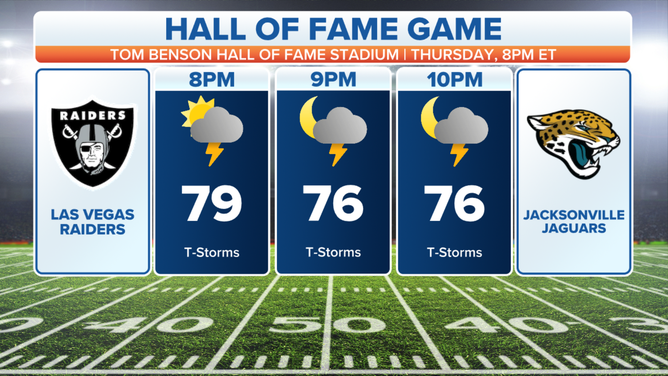 Off and on storm chances will continue through the end of the week, possibly interfering with Hall of Fame festivities.
7 WEATHER EXTREMES THAT WILL IMPACT NFL GAMES THIS SEASON
The week of celebrations will conclude with the induction of six players, a coach and an referee into the Pro Football Hall of Fame on Saturday.
The NFL's regular season will kick off on Thursday, September 8, when the Buffalo Bills take on the Los Angeles Rams.