New Year's Eve travel forecast: Staffing shortages, weather disrupts air travel
More than 1,000 flights canceled on New Year's Eve
Travelers driving or flying to their New Year's Eve destinations should prepare for delays at airports and check the forecast before setting out on a road trip.
Weather and COVID-19 staffing shortages continue to thwart airline travel for thousands of people across the U.S. Airlines have canceled flights as the pandemic continues to cause industry-wide staffing shortages.
More than 1 million people in the U.S. are expected to travel for New Year's Eve.
The threat of severe weather in the South, including the potential for tornadoes and heavy rain in Southern California, could also create travel delays. 
On Thursday, a ground stop was temporarily put in place at Denver International Airport due to extremely high winds in the area. The same winds fueled a rapidly-spreading fire that has destroyed nearly 600 homes less than 40 miles away from the airport.
According to aviation tracker FlightAware, more than 1,000 flights were delayed by late Friday morning, and more than 1,260 flights were canceled. 
Flight delays in Atlanta, Seattle and New York were impacting air travelers across the country, according to the FlightAware MiseryMap.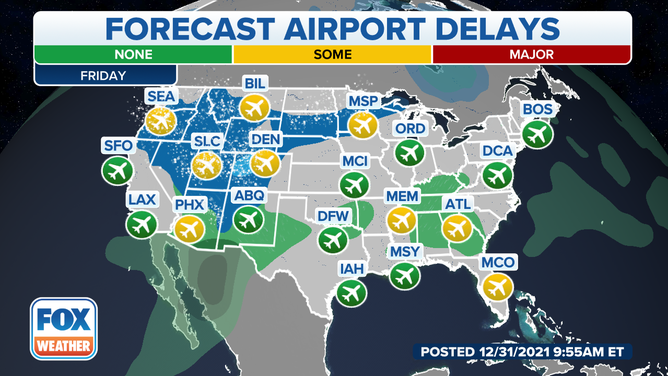 New Year's forecast: Active weather to ring in 2022
Jet Blue announced it is proactively canceling 1,280 flights starting Thursday through Jan. 13 because of a surge in the number of employees calling out sick due to the Omicron variant. 
"We entered the holiday season with the highest staffing levels we've had since the pandemic began and are using all resources available to cover our staffing needs," Jet Blue said in a statement. "To give our customers give as much notice possible to make alternate plans and accommodate them on other flights, we are proactively reducing our schedule through Jan. 13."
In a statement Wednesday, Delta said winter weather and the omicron variant continue to hamper operations. 
Winter weather impacted travelers in Seattle, causing Delta to issue travel waivers to those affected by the extreme cold and snow on Christmas week through the new year. The airline also offered waivers in Salt Lake City and Detroit.
FOX 13 News Seattle reports hundreds of pieces of luggage are in limbo at Seattle-Tacoma International Airport due to missed connecting flights.
Alaska Airlines said in a statement Wednesday the Seattle weather is impacting travel beyond the Pacific Northwest and asked flyers to consider changing their trip to after Jan. 2.
Below is a look at the airport forecast for New Year's Day and Jan. 2.

In the West, extreme cold and snow are making traffic a nightmare for drivers.
California Department of Transportation officials are asking drivers to avoid Sierra travel due to record-breaking snow on U.S. 50 and between 12 and 16 inches of snow on Interstate 80 since Monday. At higher elevations, snow totals have surpassed 8 feet.
People have spent hours stuck in traffic because they were unprepared for winter travel, according to Caltrans Director Toks Omishakin. The director is asking people to only drive in the Sierra Nevada if necessary.
"The condition are treacherous," Omishakin said.