Watch: Newly released Titanic video from 1986 shows unprecedented look at iconic shipwreck
The release of iconic shipwreck footage, shot in 1986 but never seen in public until now, coincides with the 25th anniversary and re-release of the blockbuster film "Titanic."
WOODS HOLE, Mass. – Some stories make you never want to let go. The Titanic is one of them.
Newly released footage shot 37 years ago shows a rare look at the shipwreck. The Titanic was a beauty destined for greatness, but the fates were against her. On a cold April night in 1912, she fell from grace, sinking to her watery grave in the icy northern Atlantic.
The supposedly unsinkable ship went down after hitting an iceberg. That night, about 1,500 of the Titanic's passengers and crew were lost to the sea.
On Sept. 1, 1985, the Woods Hole Oceanographic Institution helped find the doomed ocean liner. The following July, a team from WHOI returned to the wreck site. The trip marked the first time humans laid eyes on the vessel since its ill-fated voyage. 
Cameras on the human-occupied submersible vessel Alvin and the newly built, remotely operated vessel dubbed Jason Junior gathered footage that has never been released to the public until now.
HOW THE TITANIC WAS TAKEN DOWN BY A MIRAGE
The 80 minutes of footage was released to celebrate the 25th anniversary of James Cameron's hit 1998 movie. No human flesh or bones were left on board, but they found shoes, including the footwear of what appeared to be a mother and a baby.
"More than a century after the loss of Titanic, the human stories embodied in the great ship continue to resonate," said Cameron, an explorer and ocean advocate. "Like many, I was transfixed when Alvin and Jason Jr. ventured down to and inside the wreck. By releasing this footage, WHOI is helping tell an important part of a story that spans generations and circles the globe."
WANT TO SEE THE TITANIC? COMPANY OFFERING SPOTS FOR DEEP-SEA EXPEDITION IN 2023
The final resting place of the Titanic is more than 12,000 feet below the surface. The freezing temperatures of the water posed the biggest challenge to reaching the wreckage.
The search for the Titanic was actually a bit of an afterthought. One of the team members who found the wreckage said it wasn't actually what they were looking for. He was on a top-secret naval intelligence mission to study the wrecks of two nuclear submarines in the northern Atlantic.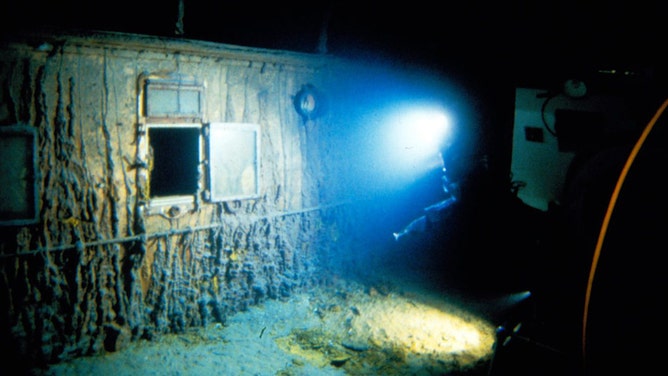 Many lessons were learned from the Titanic's fateful night and later implemented.
After the ship sank, a 24-hour radio watch was initiated, and the International Ice Patrol, which monitors icebergs in the north Atlantic, was instituted.