Lightning does strike planes – but not in this stunning photo
An estimated 40 million lightning strikes impact the U.S. every year
NEW ORLEANS – The early morning rush to leave The Big Easy's Louis Armstrong New Orleans International Airport was interrupted by thunderstorms, on Saturday morning, which created stunning images of lightning bolts filling the sky.
A witness to the stormy weather captured the exact moment lightning struck the airport.
Even though an estimated 40 million lightning strikes impact the U.S. every year, capturing a blot in all its glory is a feat that even can be challenging for the most experienced photographers.
The average duration of a stroke of lightning is less than a second, meaning in the blink of an eye, it's gone.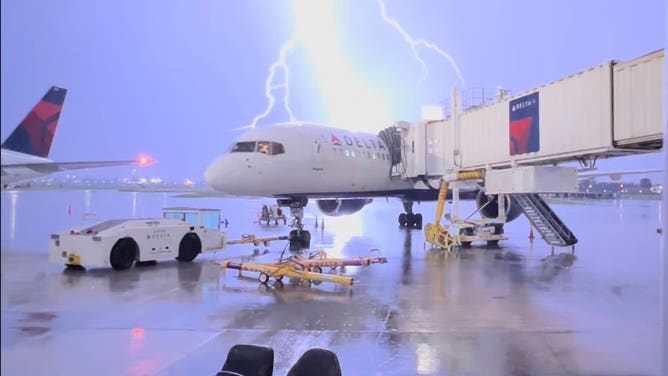 Meteorologists have lightning detection products that are able to pick up signals when bolts happen, but seeing the act of Mother Nature in all its glory adds a perspective that even the best equipment has no chance of replicating.
DEBUNKING 7 MYTHS ABOUT LIGHTNING
The large commercial jets that lined the airport's apron were spared impacts from the storm's electricity, but sometimes airlines aren't as fortunate.
Due to their long flying times and paths through cloud layers, the NWS estimates a commercial passenger plane averages one to two strikes every year.
The Federal Aviation Administration says a lightning strike can cause critical damage to essential systems aboard the aircraft, but because of newer, high-intensity protection systems, impacts have largely been minimized.
VIDEO: SEE WHAT HAPPENS WHEN LIGHTNING AND AN AURORA MIX IN THE SKY
The National Weather Service in New Orleans said Saturday's strike happened around 5:45 a.m., and there was no reported damage or injuries from the bolt.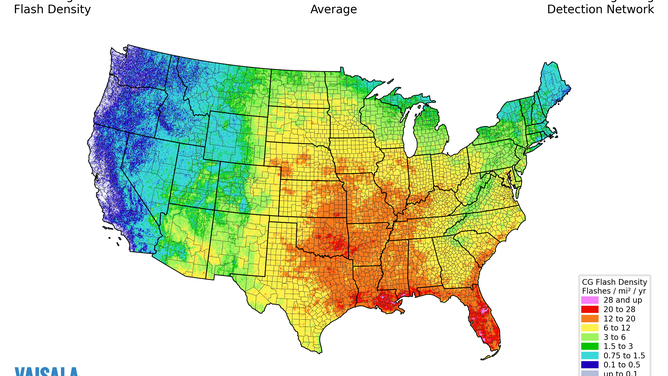 Seeing lightning in the skies over the parishes of Louisiana is not a rare occurrence. The area averages nearly 70 days each year with thunderstorm activity and challenges Florida for being the lightning capital of the U.S.
The country averages 20 lightning-related deaths every year that experts say are preventable.
Fatalities are usually associated with leisure activities, work and outdoor tasks around the home.