Wildfires consume more than 15,000 acres across Florida
Third major fire prompts a nursing home evacuation
BAY COUNTY, Fla.-- More than 171 wildfires are burning in Florida, consuming 15,300 acres as county and Florida Forest Service crews work to contain the wildfires that have prompted evacuations.
The firefight of two major wildfires, the Adkins Avenue Fire and the Bertha Swamp Road Fire, are now called the Chipola Complex, according to the Florida Forest Service management team overseeing the firefight.
A third fire broke out on Sunday east of Panama City near Tram Road and U.S. 98, prompting the evacuation of the Clifford Chester Sims State Veterans Nursing Home Sunday. Officials said everyone got out safely.
According to the FFS, the Star Avenue Fire is approximately 250 acres and 65% contained.
Waller Elementary in Bay County will remain closed, but all other schools in the area remain open.
Several days into the widespread fires, no injuries have been reported as of Monday morning, according to Bay County Emergency Services officials.
States of emergency are in place in Gulf, Bay and Calhoun counties. 

The Bertha Swamp Road Fire has burned over 14,000 acres and is 10% contained as of Monday evening.
Brush and debris leftover from Hurricane Michael, along with winds and dry conditions, have made containing the fire a challenge.
"The blowdown timber from Michael makes it very difficult to fight wildfires in our area," Bay County officials wrote on Facebook Sunday. "Fires that would normally be contained quickly grow rapidly as there is so much fuel on the ground."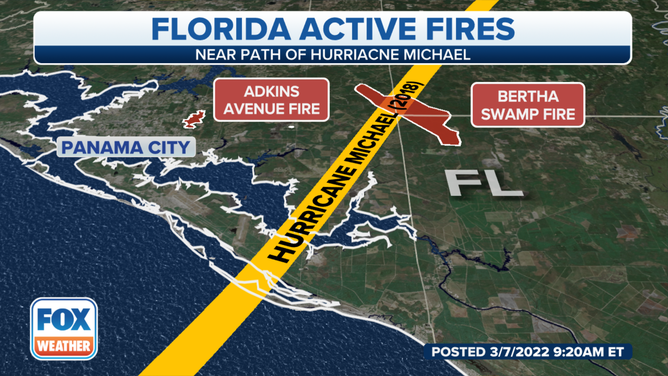 Firefighters are working to protect structures in the Bear Creek communities south and east of U.S. 231 to prevent the fire from moving into those neighborhoods.
Residents in Bear Creek were told to evacuate Saturday as the fire progressed from Gulf County into Bay and Calhoun counties. There is no estimate of when those residents will be able to return home.
The Adkins Avenue Fire is now measured at 875 acres and is 50% contained.
Evacuation orders have been lifted near the Adkins Avenue Fire but remain for the Bear Creek area. 
Weather conditions have not been on the side of fire crews in Florida. Record warm temperatures and lack of rainfall are fueling fire conditions across the state. Much of the Florida Panhandle has received below-average rainfall in the first three months of the year.
ANOTHER DAY OF ABOVE-AVERAGE TEMPERATURES EXPECTED FROM FLORIDA TO THE NORTHEAST
Winds remained high on Monday, according to the National Weather Service in Tallahassee, with gusts between 20 and 25 mph.
However, some good news could be incoming as the Southeast is forecast to receive rain. 
Rain chances increase on Tuesday, and by mid-week widespread rainfall around 2 and 4 inches across the Panhandle will be welcome news, according to the NWS Tallahassee.
Areas near and around the fire zone are facing unhealthy air quality. Vulnerable individuals or those with health conditions should avoid exposure.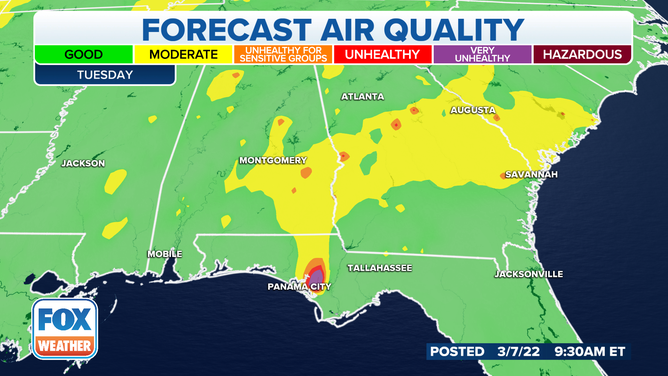 Fire danger remains moderate across the entire Sunshine State on Tuesday, according to the Fire Danger Index reports from the Florida Department of Agriculture.