Firefighters felt heat from Kansas gas plant explosion a mile away, report says
All employees were accounted for, and two contractors received second-degree burns to the face and arms
RENO COUNTY, Kan. – An explosion and fire at a natural gas processing plant injured two people and prompted evacuations near Haven, Kansas, on Thursday.
The Reno County Sheriff's Office said dispatchers received reports about 1:15 p.m. Central of a fire near the Panhandle Eastern pipeline located south of Kansas Highway 96, east of Kent Road. 
It was later identified as an explosion in the Tenawa Haven Gas plant which is just to the south of Panhandle Eastern.
Ned Matthew Biltz was driving on Highway 96 when the explosion happened and captured some video.
"Oh! My God! You can hear it! Oh! My God!" he can be heard shouting in the video. "I've never seen anything like that before. Oh! My God! It's falling down. Oh! My God! Lord, have mercy."
Reno County Emergency Management Director Adam Weishaar told The Hutchisnon News that first responders felt the heat of the fire from more than a mile away.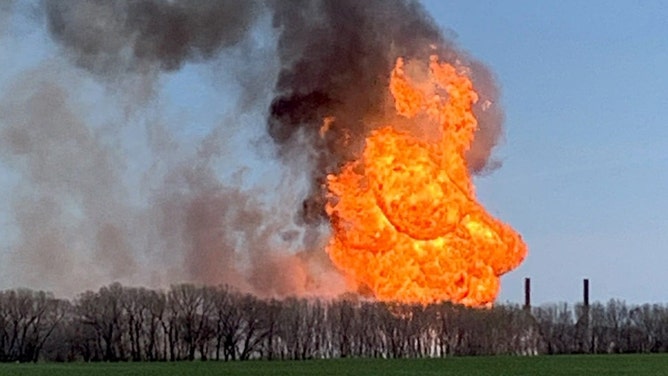 A 2-mile evacuation radius was ordered and traffic in the area was also re-routed. All residents have since been allowed back into their homes.
While there was never any danger from the fumes, authorities were worried about the liquid product that was burning causing additional explosions, Weishaar said.
The Reno County Board of County Commissioners later declared a local disaster. The threat of any further explosions at the plant had been mitigated about three hours later, the sheriff's office said.
All employees were accounted for, and two contractors received second-degree burns to the face and arms. They were transported to a Wichita hospital.
Haven resident Bridget Gingerich told the newspaper that the explosion shook her house. 
"It almost sounded like a plane just hit the ground next to my house," she said.
The pipeline was still bleeding gas from its lines as of late Thursday evening but said not to be dangerous despite its very loud noise.