Magnitude-4.6 quake felt on Hawaii's Big Island
The earthquake was centered about 5 miles east-northeast of Pāhala, at a depth of 20 miles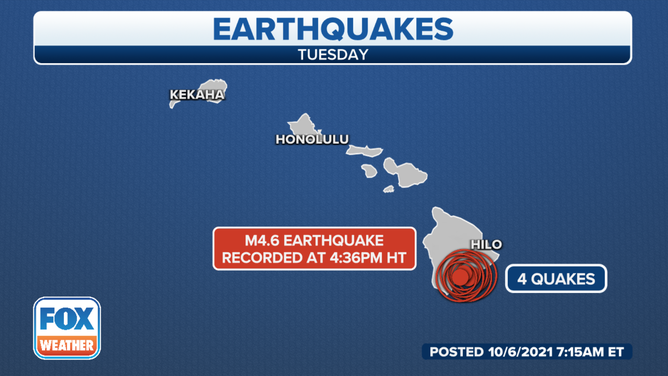 HONOLULU – A magnitude-4.6 earthquake rattled a portion of Hawaii's Big Island on Tuesday evening, the United States Geological Survey reports.
The earthquake happened at 8:37 p.m. and was centered about 5 miles east-northeast of Pāhala, at a depth of 20 miles.
Light shaking occurred across parts of the island with no significant damage. The USGS received over 210 felt reports within the first hour of the earthquake.
The earthquake had no noticeable impact on Mauna Loa and Kīlauea volcanoes, said Hawaiian Volcano Observatory Scientist-in-Charge, Ken Hon.
"This earthquake is part of the ongoing seismic swarm under the Pāhala area, which started in August 2019. Webcams and other data streams show no impact on the ongoing eruption at Kīlauea," Hon said.
Three aftershocks were also reported, including a magnitude-3.6 quake.