Kruger Rock Fire fight in Colorado continues amid dry, windy conditions
The 146-acre 60% contained; some mandatory evacuations lifted
ESTES PARK, CO.-- Crews fighting the Kruger Rock Fire in Estes Park, Colorado, will face continued dry and windy conditions.
Thursday marks day three of the firefight that has claimed the life of pilot Marc Thor Olson. The 146-acre fire that started Tuesday outside of Estes Park is 60% contained.
On Wednesday, fire officials downgraded evacuations from mandatory to voluntary for residents and business occupants in the area south and east of the intersection of Fish Creek Road and Little Valley Drive. However, according to Larimer County Sheriff's Office, people in voluntary evacuation areas should be prepared for mandatory evacuations if the fire behavior changes.
MORE COVERAGE: Pilot dies in crash while fighting Kruger Rock Fire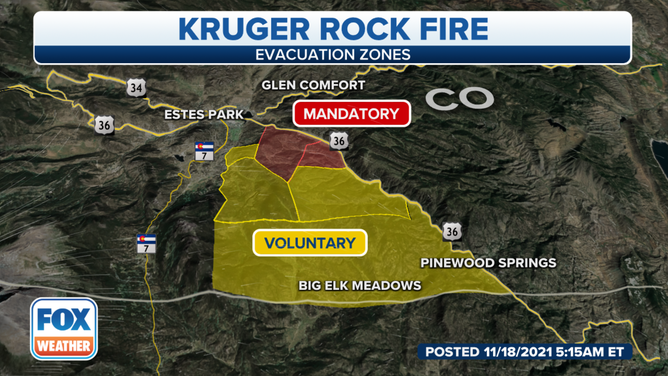 Mandatory evacuations remain in effect for Hermit Park and for the Pole Hill Road to Panorama Peak area on the east side of Highway 36.
The initial investigation into the cause of the fire indicates windy knocked a tree on an electric distribution line sparking the fire.
That strong wind continues Thursday with gusts up to 20-30 mph and is expected to pick up to 40-50 mph in some areas later on Thursday.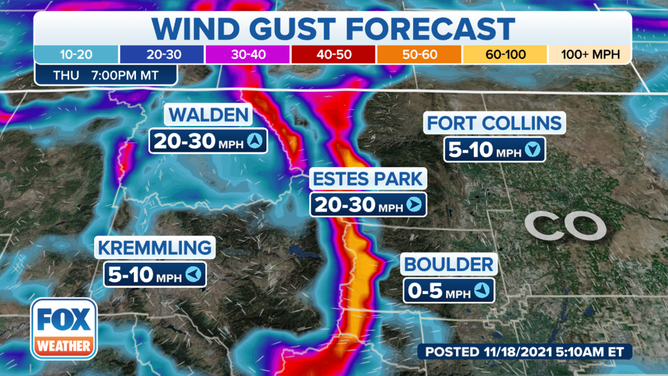 Conditions around the fire are also dry. Relative humidity indicates the percent of atmospheric moisture in the air. In Estes Park, relative humidity was at 11% Thursday morning.
The NWS issued a Fire Weather Warning for Thursday as fire weather conditions will become critical again.
Fire crews have been climbing up the mountainside clearing brush to contain the fire. 
As of Thursday morning, 210 fire personnel were working the fire, according to the Larimer County Sheriff's Office.