96-mph wind gusts rip across parts of Northern Plains sparking power outages
High Wind Warnings and Wind Advisories are in effect for nearly 3 million people
MISSOULA, Mont. – As low pressure strengthens over Canada, powerful winds have developed in the Northern Plains and Rockies, raising concerns for wildfires.
The National Weather Service in Missoula, Montana, said a strong cold front is being pushed southeastward by 60- to 70-mph winds in the mid-levels of the atmosphere. This is bringing strong and potentially damaging winds down to the surface.
Winds were gusting to 96 mph at the county line of Sheridan and Johnson in Wyoming on Interstate 90, the NWS in Billings said. The interstate is now closed in this area. The state's wind gust record is 120 mph west of Big Piney in 2018.
Damage reports in Story, Wyoming, include 24-inch pine trees snapping, barn roofs being ripped off, no power in much of the town, and several road closures due to downed trees, the NWS said.

High Wind Warnings and Wind Advisories are in effect for nearly 3 million people from Montana and southeastern Idaho to Wyoming and the western Dakotas.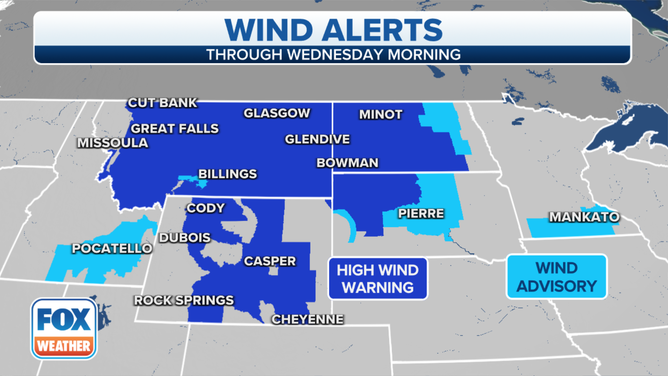 The NWS said peak winds in the mountains and foothills will occur through Tuesday morning, with gusts to 70 mph possible. Winds in south-central and southeastern Montana and north-central Wyoming will gust between 55 and 65 mph through Tuesday evening.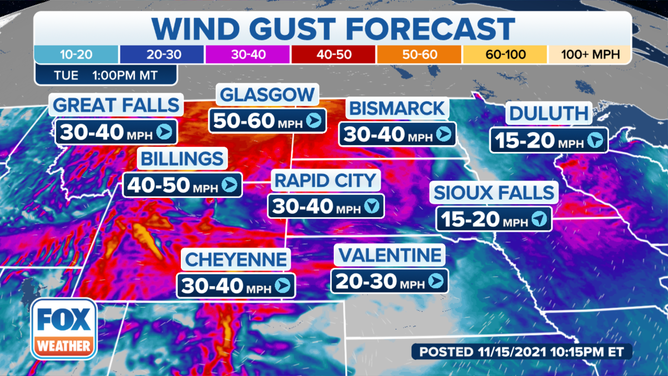 The Missoula airport in Montana recorded wind gusts over 65 mph Monday night into early Tuesday morning. Some peak gusts exceeded hurricane force, like in Browning, Montana, which reported a gust of 83 mph. 
These gusts are leading to a few power outages. As of 4 a.m. Pacific, over 10,600 people were without electricity in Idaho, down from over 40,000 customers. Montana reported about 7,000 people without power.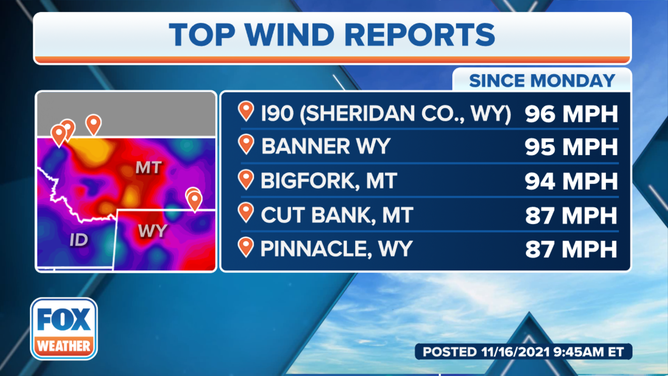 As the atmosphere destabilizes behind the cold front, the ingredients may be present for snow squalls to develop through Tuesday evening. The best chance for this activity will be along the continental divide and over central and southwestern Montana.
Brief periods of moderate to heavy snowfall will be possible in any squalls. Drivers in the area can expect rapidly changing roads conditions through Tuesday afternoon. We'll start to see some slow improvements in weather conditions over the next 24 hours.
Fire weather concerns
Additionally, there are a number of Fire Weather Warnings in the High Plains, as the strong winds are slowly increasing the fire risk. These warnings include much of the Front Range of the Colorado Rockies, southeastern Wyoming, western and central Nebraska and western South Dakota.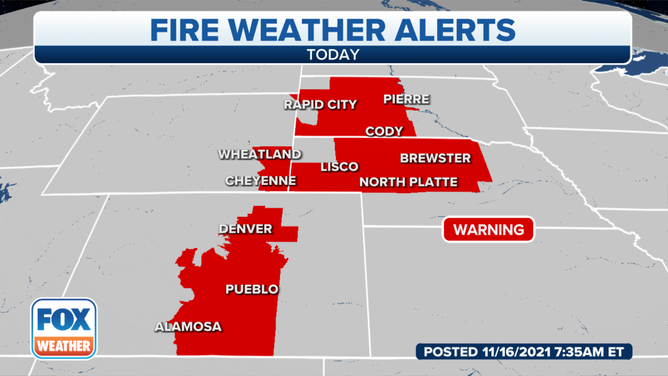 Farther south, the Fire Weather Warnings extend into parts of eastern New Mexico and West Texas, where NOAA's Storm Prediction Center said there will be critical fire weather conditions Tuesday afternoon.