Hoar frost on Illinois lake showcases winter's beauty
There are five types of frost: hoar frost, surface hoar, frost flowers, window frost and rim ice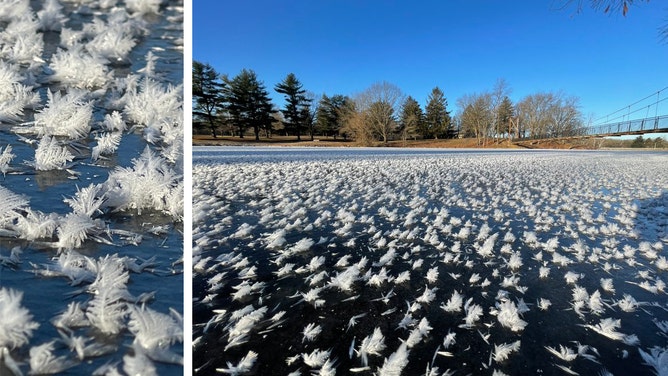 MAHOMET, Ill. – Conditions were ideal in East-central Illinois Friday morning for an incredible show put on by Mother Nature.
Ice crystals, known as hoar ice, formed on top of Lake of the Woods in Mahomet. Weather observations in the area show temperatures reached 0 degrees F about 5 a.m. 
Eric Snodgrass witnessed the event and posted photos to Twitter.
The ice crystals are actually called hoar frost, named after their hair-like or feathery appearance. The National Weather Service said they are a deposit of interlocking crystals formed by direct sublimation on the lake.
Its buildup is similar to the process by which dew is formed, except that the temperature of the frosted object must be below freezing, the NWS said. Hoar frost forms when air with a dew point below freezing is brought to saturation by cooling. In this case, likely tiny cracks in the lake ice allowed relatively milder water to evaporate and instantly freeze into ice crystals as they escaped.
There are five types of frost: hoar frost, surface hoar, frost flowers, window frost and rim ice.