Heavy rain, mountain snow take aim at Pacific Northwest
Some computer forecast models indicate 5 to 8 inches of rain could fall in parts of western Washington through early next week
An atmospheric river event will bring heavy rain and mountain snow to the Pacific Northwest over the next few days.
Locations along the immediate Pacific coast will wait until Wednesday evening to see the rain move in. Some of that rain could turn heavier at times, especially from the Olympic Peninsula into the Seattle area, while the Cascades will pick up some snow.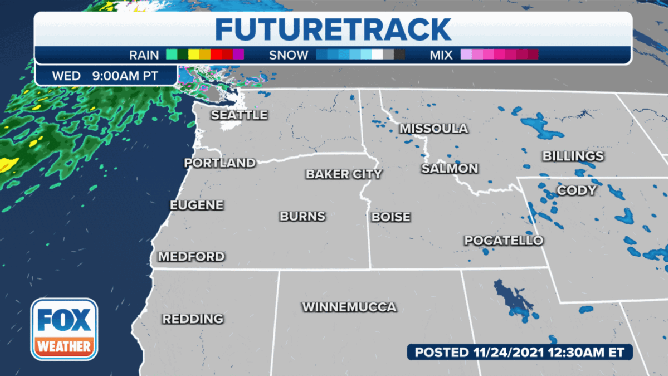 Some computer forecast models indicate 5 to 8 inches of rain could fall in parts of western Washington through early next week. This heavy rain could push a few rivers back into minor flooding.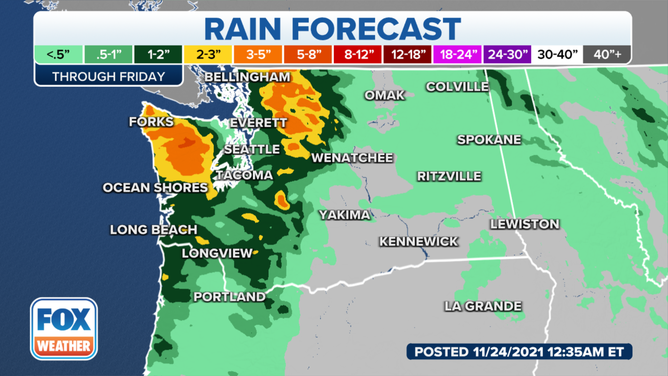 Farther east, a cold front will bring gusty winds and snow to portions of the Rockies and Northern Plains through Black Friday, which could cause hazardous travel conditions in those areas.
THANKSGIVING TRAVEL FORECAST: WHERE HOLIDAY TRAVELERS CAN EXPECT RAIN TO TRIGGER FLIGHT DELAYS THIS WEEK