Heavy rain and snow for the Pacific Northwest for first full week of New Year
A cold front brings damaging wind
High winds and rain lash the Pacific Northwest coast while the Cascades brace for 3-4 feet of new snow as a strong cold front makes its way through the Pacific Northwest Sunday night and Monday.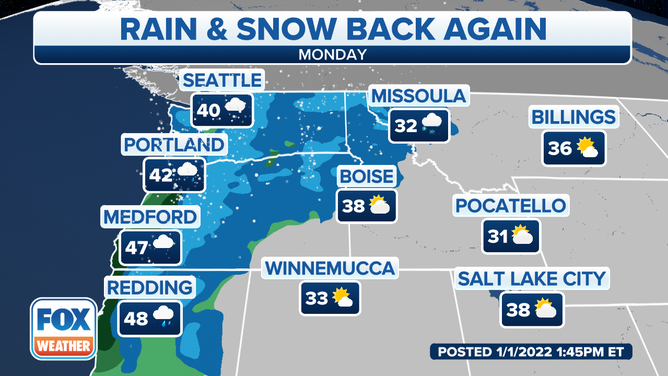 Wind prone beaches and headlands, the National Weather Service (NWS) stated could see gusts up to 65-80 mph and are under High Wind Warnings late Sunday and Monday. The Willamette Valley is under a Wind Advisory and the NWS warns of gusts up to 40-50 mph.
Oregon clocked wind gusts on Sunday at tropical storm strength:
Garibaldi (Tillamook County) – 71 mph
Astoria (Megler Bridge on US 101) – 68 mph
Clatsop Spit (Clatsop County) – 64 mph
Newport (Yaquina Bay Bridge on US 101) – 53 mph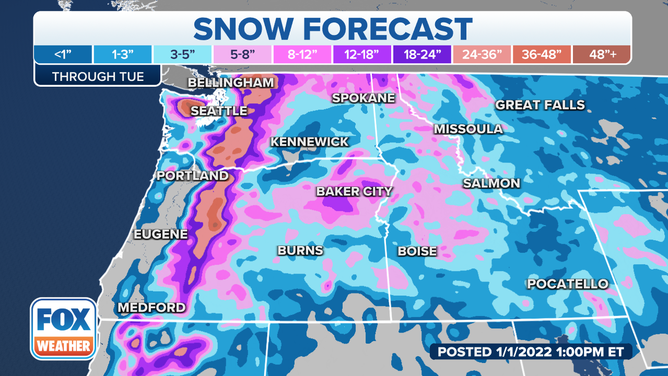 Lowland areas including Seattle and Portland could see downpours with rainfall rates of half-inch per hour overnight into the Monday morning commute. Snow levels will drop from 3,000-4,000 feet to 1,500-2,000 feet behind the front.
Mountain snowfall amounts for Monday:
Coastal ranges and Cascades - 2-3 inches
Mountains above 3,000 feet - 1-3 feet
Highest elevations - 3-4 feet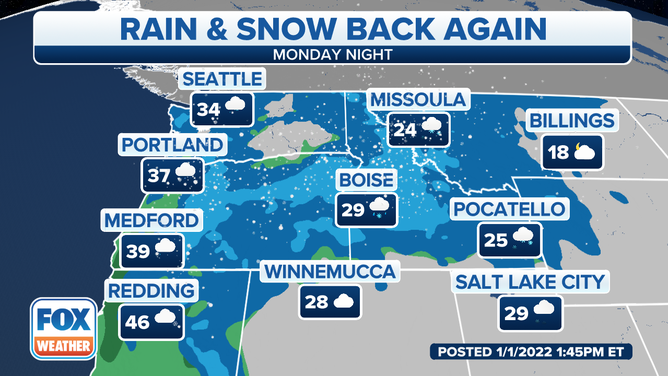 The combination of high winds and heavy snows will make mountain travel treacherous.  Blowing snow will mean low visibility and high winds will knock branches and trees into roadways.
The NWS in Portland, Oregon issued an Avalanche Warning for the Mt. Hood area through Monday afternoon.
The Intermountain West and Northern Rockies will see the heavy snows late Monday into Tuesday.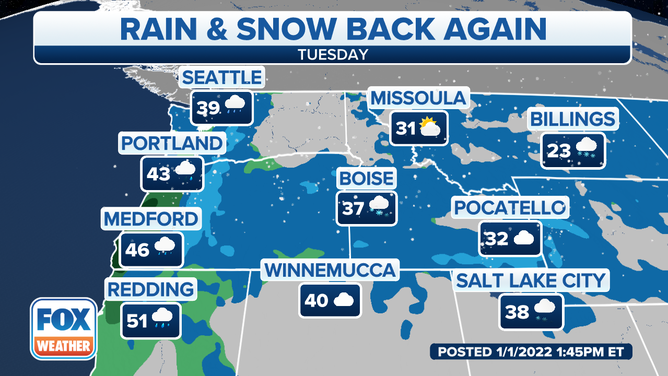 The next weaker system threatens another round of low elevation rain and mountain snow Tuesday into Wednesday for the Coast.