'Happy, Happy Birthday Baby': Dolly Parton turns 76
Check out the weather on the American icon's and country superstar's birthday in a few 'inspired' locales
America's own "Backwoods Barbie" celebrates her 76th birthday Wednesday. In honor of the Country Music Hall of Famer, FOX Weather checked out the forecasts for a few places across the country with names that remind us of her songs and movies. 
Keep an umbrella handy in Pigeon Forge, Tennessee, which is the home of Dollywood, Parton's resort and amusement park. Early sun could lead to late-day showers.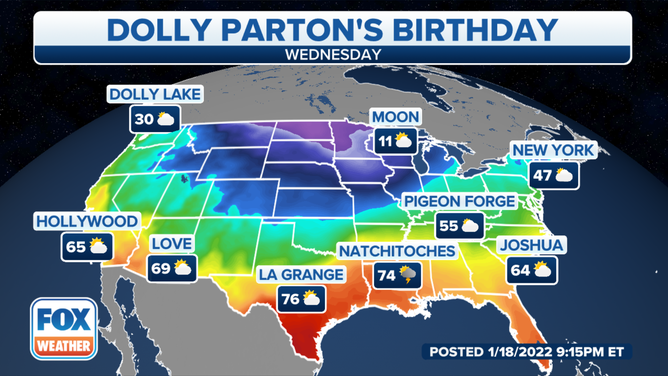 Even if you are working "9 to 5," get out and enjoy the sun in Love, Arizona. Love is a major theme in so many of her hits: "I Will Always Love You," "Puppy Love," "Don't Call it Love," "To know Him is to Love Him"…
A cold front moving through the Gulf states will set off thunderstorms in Natchitoches, Louisiana. Natchitoches may be more recognizable to "Steele Magnolias" fans as the town Chinquapin, where Parton's character owned a beauty salon.
Parton's birthday will be a warm one in La Grange, Texas, with a high of 76. The average January high for the town made famous by "The Best Little Whorehouse in Texas" is only 62.
Moon, Wisconsin, tops out at 10, a good 18 degrees below the average. Parton recorded "From the Moon and Back" with Kris Kristofferson as heard in the movie "Joyful Noise," then later with Willie Nelson. Parton is the recipient of the Willie Nelson Lifetime Achievement Award.
Dolly Lake in Okanogan County, Washington, will be a chilly 34.
Sing along to "White Limozeen" in Hollywood, where it'll be a balmy 66 under afternoon sun. The song is about a country girl who dreams of making it big in Tinsel Town.
Parton's character in "Rhinestone" sings "Tennessee Homesick Blues" while living in New York. The Big Apple will stay dry for her birthday, but snow may be on the way Thursday.
The 11-time Grammy winner scored her first-ever No. 1 single on the U.S. country charts in 1970 with "Joshua." Sunny on Wednesday, Joshua, South Carolina, expects rain late Thursday and a chance of freezing rain late Friday.