History shows weather will cooperate as Americans plan to spend major candy corn on Halloween
The weather is expected to cooperate across the United States as many will be celebrating close to pre-pandemic levels.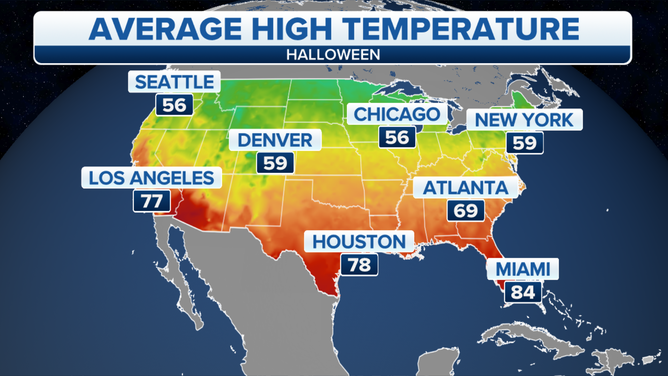 NEW YORK – There's no trick about it. If history serves us right, the weather should cooperate on Halloween as Americans plan to spend some major candy corn this season. 
Looking at 30-year averages across the United States, high temperatures on Halloween range from 84-56 degrees. Here is some historical data highlighting Halloween temperatures. The "coldest" values are low temperatures that occurred on the morning of Halloween.
Warmest: 102 degrees - Palm Springs, California - 1966
Coldest: Minus 27 degrees - Fairbanks, Alaska - 1992
Coldest (non-Alaska): Minus 16 degrees - Havre, Montana - 1984
Wettest: 10.00 inches - Fort Lauderdale, Florida - 1969 (its sixth-wettest day on record)
Snowiest: 18.1 inches - Trinidad, Colorado - 1972
The FOX Weather app allows users to customize and track future plans for that day. Looking three weeks out at Halloween, light rain is possible for Raleigh, North Carolina, with a high of 66 degrees. Those celebrating close to pre-pandemic levels in Los Angeles might see morning lows near 60 degrees. If there is a change in the weather for your event, FOX Weather will alert you to make sure you adjust your plans accordingly.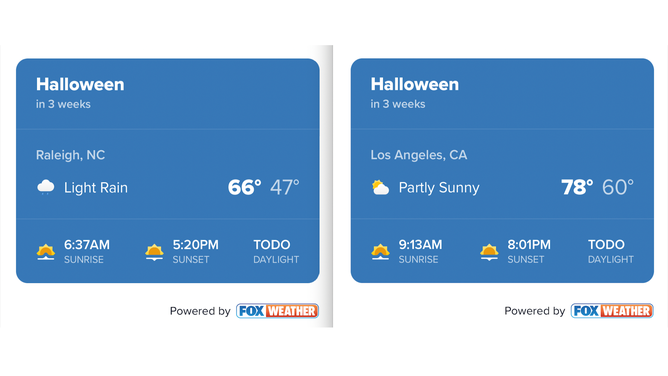 According to the National Retail Federation, ghouls will shell out $10.14 billion, up from $8.05 billion in 2020. Consumers will spend an average of $102.74 on Halloween this year.
"Americans plan to spend more than ever to make this Halloween a memorable one," NRF President and CEO Matthew Shay said. "Retailers have implemented a number of measures, such as bringing in Halloween products earlier than normal, to ensure their shelves are stocked with seasonal candy, décor and other items ahead of this important holiday."
Top ways people plan to celebrate
The NRF estimates that 65% of Americans intend to celebrate Halloween or participate in Halloween activities this year, up from 58% a year ago and comparable with 68% in 2019 before the pandemic. 
Hand out candy – 66%
Decorate home/yard – 52%
Dress in costumes – 46%
Carve a pumpkin – 44%
Host/attend a party – 25%
Looking for the perfect costume?
According to the NRF, superheroes are popular once again this year for children. More than 1.8 million plan to dress as Spiderman, 1.2 million as Batman, and 1.2 million say they will sport their favorite crusader attire.
For adults, more than 4.6 million plan to dress like a witch. Vampires are next at more than 1.6 million, followed by a ghost, a cat and a pirate.
And let's not forget about our pets. The most popular costumes for our four-legged pals include a pumpkin, hot dog, superhero and bumblebee.