From iguanas to now coconuts, Florida sees it all falling from skies
The Sunshine State has seen some unusual things fall from the sky – like iguanas – and now they can add wind-driven coconuts to the list
MIAMI – Only in Florida. 
The Sunshine State has seen some unusual things fall from the sky – like iguanas – and now they can add wind-driven coconuts to the list.
Twitter user FerrisSage posted a photo of car damage after they say a coconut was blown from a tree during gusty winds Tuesday and cracked their mother's windshield on U.S. Highway 1 coming off Interstate 95.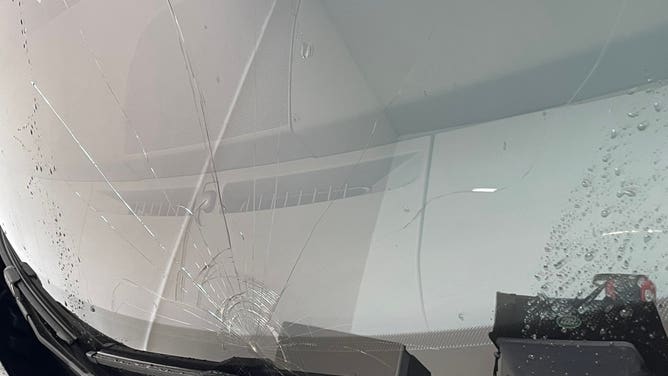 The National Weather Service said wind observations surrounding the area were in the 35- to 45-mph range at the time.
This came as a low-pressure system moved across the Florida Peninsula. Strong damaging winds, a brief tornado and hazardous marine and beach conditions were reported across southwestern Florida. 

An EF-1 tornado swept through Fort Myers, Florida, just before 6:30 a.m. Tuesday near the Eagle Ridge Golf Club. It lasted nearly 1.3 miles before ending two minutes later, according to the NWS.
The storm survey team estimated the tornado's peak wind at 95 mph. Damage will exceed $500,000, the NWS reported.
Dozens of homes sustained roof damage, and numerous trees and large branches were broken, the storm survey team reported. One person suffered minor injuries from flying glass.
In January 2020, the NWS in Miami warned Floridians of falling iguanas due to low temperatures in South Florida. The cold-blooded reptiles slow down or become immobile when temperatures drop into the 40s. 
And while they may fall from trees, they are not dead, the NWS said.