Canadian wildfire smoke invades Florida choking skies with smoke, unhealthy air quality
Canadian wildfire smoke ended up in Florida due to the combination of a low-pressure system over Florida from this past weekend and a high-pressure system over the eastern U.S., causing the winds around those systems to carry it as far south as Miami.
MIAMI – Florida skies went from blue to more of a milky haze Tuesday after wildfire smoke from Canada made its way to the Southeast, reaching as far as Miami and degrading air quality to unhealthy levels. But conditions were improving Wednesday.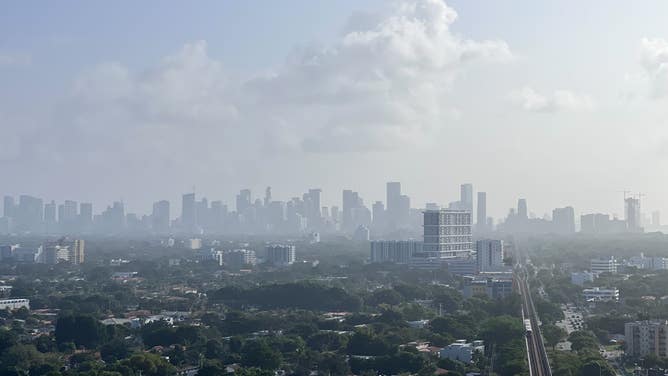 More than 300 wildfires continue burning out of control across Canada, but smoke ended up in Florida earlier this week due to a combination of weather systems. A low-pressure system over Florida from this past weekend worked with a high-pressure system over the eastern U.S., to carry smoke from Eastern Canada south off the East Coast and then as far south as Miami.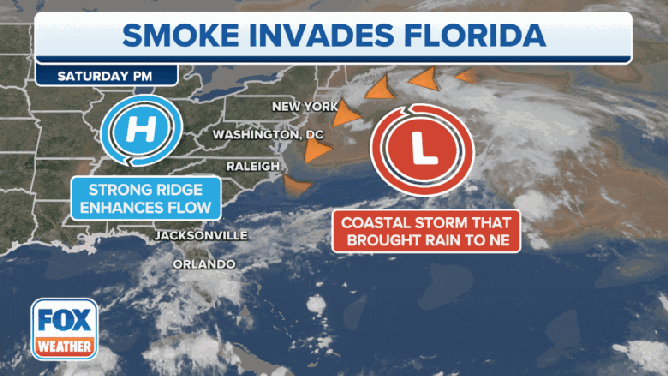 Skies across the Orlando region had an orange tint Monday night before sunset, and on Tuesday morning, the smoke continued to blanket Florida as air quality worsened.
Air quality in Florida on Oct. 4, 2023.
(FOX Weather)
---
Unhealthy air levels with an Air Quality Index (AQI) of 156 were measured in Jacksonville, Orlando, West Palm Beach and Delray Beach on Tuesday morning. Later on Tuesday, air quality levels reached "unhealthy" in the Tampa Bay area and across Southwest Florida. 
The smoke could be seen from the Florida Panhandle to Jacksonville and down throughout South Florida. 
The smokiness was visible across Surfline beach cameras on Florida's Space Coast and up and down the state's east coast. 
FOX Weather's Brandy Campbell was in Miami, where the smoke covered the city skyline.

NOAA satellite imagery captured the smoke moving south through the atmosphere and enveloping the Sunshine State. The smoke was also seen over much of the Southeast on Tuesday morning.  
While some lingering haze was expected across Florida Wednesday, the air quality has improved.  Some residual smoke will blow across the Gulf Coast Wednesday and then carry north through the Southeast and into the Tennessee Valley, but impacts are minimal. 
Smoke Forecast for Southeast
(FOX Weather)
---
More than 18.4 million hectares burned this year in Canada alone, according to the Canadian Interagency Forest Fire Center.