Firefighters work to contain fires in drought-plagued Montana
The combination of gusty winds and dry weather created tinderbox conditions across the state.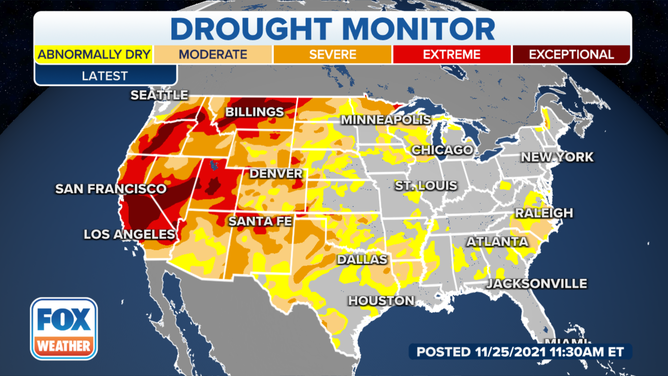 Firefighters in Montana are working to contain at least three major fires that broke out earlier this week.
The combination of dry brush, gusty winds and low humidity were significant enough to quickly fan the flames.
While drought conditions will continue to persist, meteorologists say winds will relax on Friday, and cooler temperatures should settle into the region, which will likely help firefighters' efforts. 
West Wind Fire
Officials say the wildfire near Denton, Montana, has consumed more than 10,500 acres. Hundreds of residents were evacuated Wednesday because of the fast-moving flames.
Crews estimate the fire has destroyed more than two dozen structures.
The Fergus County Sheriff's Office expects crews will work to contain the fire for several more days.
The America Red Cross set up an evacuation center at the Civic Center in Lewiston, Montana for evacuees.
Gibson Flats Fire
At least 70 firefighters continue to work the wildfire burning south of Great Falls.
No injuries have been reported, but the Great Falls Fire Rescue reports that several structures were either damaged or destroyed by the fire.
An evacuation center was set up at the Great Falls Central Catholic High School.
As of Thursday, the fire burned more than 100 acres. It's unknown what caused the fire.
Blackfoot Fire
Several residents near the town of Browning, Montana were forced from their homes Wednesday because of a fast-moving grass fire.
It's unknown how many acres have burned, but firefighters believe they gained the upper hand on the blaze.
The Glacier County Sheriff's Office reports roadways have reopened in the area, but deputies warn smoke may continue to cause intermittent visibility problems.