Fire Weather Warnings posted in Southern California, including Los Angeles
The NWS said that these winds would not impact the Alisal Fire in Santa Barbara County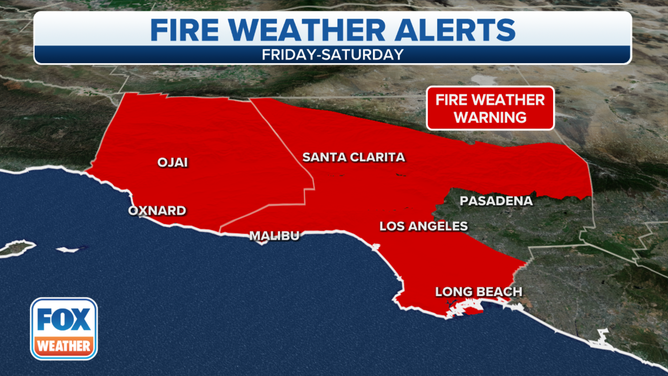 LOS ANGELES -- A moderate Santa Ana wind event is expected in Southern California on Friday, increasing the wildfire threat.
Fire Weather Warnings are in effect for Ventura County, Los Angeles County and the San Fernando and Santa Clarita valleys from 6 a.m. Friday through 8 p.m. Saturday Pacific time.
The National Weather Service said gusts up to 45 to 50 mph are possible Friday morning in the valleys and mountains and up to 40 mph for the coastal areas. A Wind Advisory is in effect for these areas through noon Friday.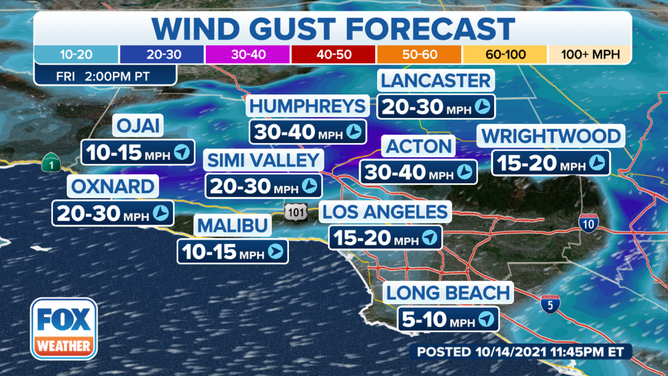 The NWS said that these winds would not impact the Alisal Fire in southwestern Santa Barbara County. That area is a considerable distance from the corridor of winds that Santa Anas are typically confined.
However, the drying influence with temperatures between 80 and 90 degrees will reach that area, resulting in humidities dropping into the teens and possibly lower at times over the higher elevations. There could be rapid fire growth and extreme fire behavior if ignition occurs, the NWS warned.