Fire Weather Warnings over much of California
High fire danger persists for California with strong Northeast winds and dry groundcover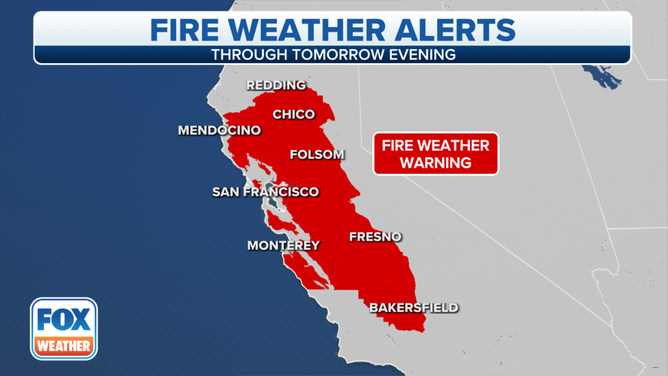 High wind, low humidity, and very dry vegetation continue to keep a large part of California in a Fire Weather Warning.  The threat continues through Tuesday evening.
Wildfires are breaking out across the warned area. The Alisal Fire in the Los Padres National Forest in Santa Barbara County forced the California Highway Patrol to closed a section of Highway 101.  Santa Barbara County Office of Emergency Management has ordered evacuations for the fire that already burned over 1,000 acres. Evacuations are also underway for another wildfire in American Canyon in Napa County.
Damaging winds started yesterday over the San Francisco Bay Area's mountains and the Sacramento Valley.  So far, Mt. St. Helena in Napa County clocked maximum sustained winds at 41 mph and Mt. Diablo in Contra Costa County felt 49 mph winds at 3,849 feet.
Winds picked up dust which the Sacramento National Weather Service says reduced visibilities in areas to 1.5 to 3 miles around construction areas and plowed fields.   The California Highway Patrol closed several highways due to the low visibility in Southern California.  Check CalTrans QuickMaps for current road closings.  The Antelope Valley and the Mojave Desert near LA are notorious for blinding dust storms and winds that can topple big rigs.
The California Department of Transportation issued their own high wind warnings for stretches of roadways through and perpendicular to passes and canyons prone to high and gusty North-Northeast winds.  They discourage travel through the areas for campers, trailers, or permit loads. 
Public Gas and Electric, PGE,  proactively turned off power to areas experiencing or will soon experience critical fire weather. State officials found winds knocking trees into power lines or disbursing sparks from malfunctioning equipment on power poles to blame for previous wildfires.  PGE currently reports over 25,000 customers without power or will soon be without power.  See the PGE outage map for current outages in your neighborhood.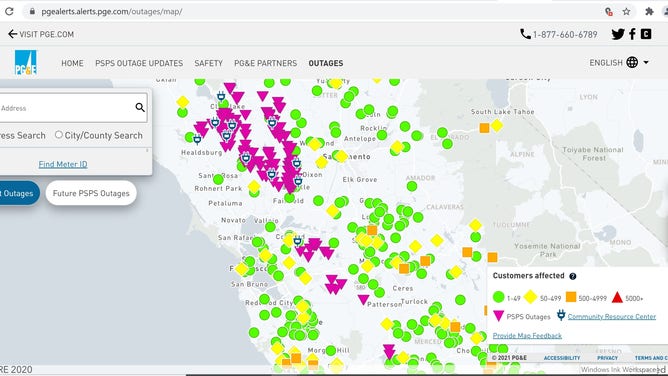 The Fire Weather Warnings stretch from the coast to the state line and from Mendocino County in Northern California to Kern County in the Central Valley.  Wind and Blowing Dust Advisories continue from the Los Angeles coast and down to the border.
The area of low pressure digging into the Great Basin is bringing upper level, strong winds down to the surface and shifting the wind to the North then Northeast direction tonight and tomorrow.  Meteorologists nick-named this type of system an "inside slider."  Tuesday night ridging (higher pressure) will displace the low and winds will slacken, temperatures rise and humidity levels increase. 
Extremely dry conditions and high winds are literally fuel to a fire sparked by anything.  For example, the California Department of Transportation, CalTrans has a mandatory brake check for all trucks heading westbound on I-80 in Nyack (Sierra Foothills)  in order to prevent wildfires due to overheating brakes.  The high winds take embers flying onto other dry brush helping the fire to spread very fast.
The  wind event did help battle the threat of fire a bit in the Tahoe area.  North winds blew over Lake Tahoe, picked up a bit of moisture and gave the Caldor Fire burn scar a little lake-effect snow.
The Fire Weather Warnings Expire Tuesday evening.