West seeing hints of summer but what happened to spring?
Temperatures across Oregon, California, Nevada and Arizona will experience highs 10-30 degrees above average through Thursday.
Spring just sprung on Sunday, but many in the West are asking where the season is as the weather maps have a summer feel.
Record highs were reached on both Monday and Tuesday with more heat on the way for the remaining days of the week.
Meteorologists expect dozens of record highs could fall through Thursday as a ridge of high pressure remains in control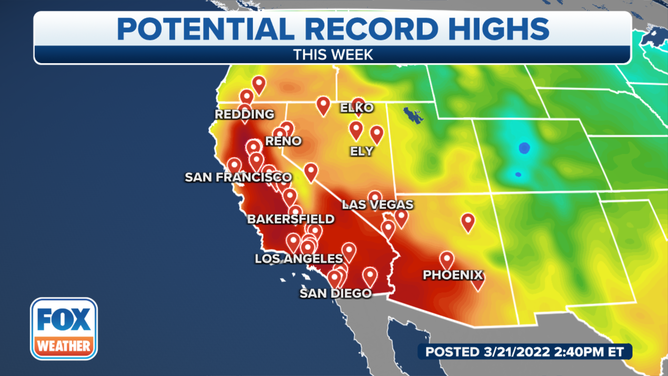 Tuesday broke records across California for Burbank, Santa Barbara, Sacramento and San Jose. The San Francisco Airport hit 82 and shattered their 2008 record by nine degrees.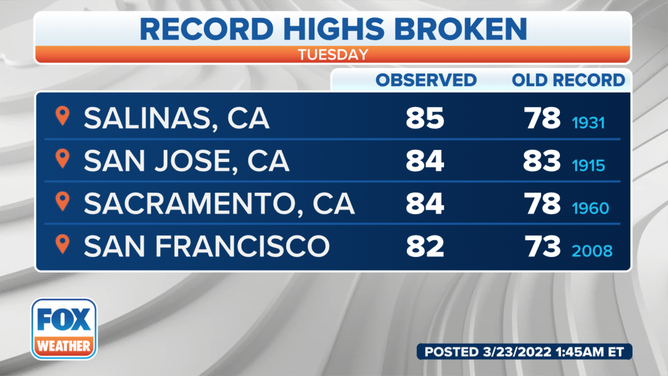 The high pressure system over the Golden State is keeping it dry and sunny. The weather pattern means winds will be offshore.

The north-northeasterly winds go through compressional heating as they accelerate down the western slopes of mountains which dries and warms the air. 
The direction of the winds means a lack of a sea breeze along the coast, which could help alleviate the usual nightly intrusion of fog with the marine layer.
WHAT ARE SANTA ANA AND OFFSHORE WINDS?
Tuesday's temperatures were 20-30 degrees warmer than normal for the northern half of the state and 10-20 degrees above normal for the southern half.

Wednesday warms even more. Burbank and Bakersfield are forecast to hit 90 degrees. Bakersfield's record has stood since 1926. Merced is forecast to blow their record high away by six degrees.
Bakersfield is normally 71 degrees while Fresno and Merced have highs in the upper 60s.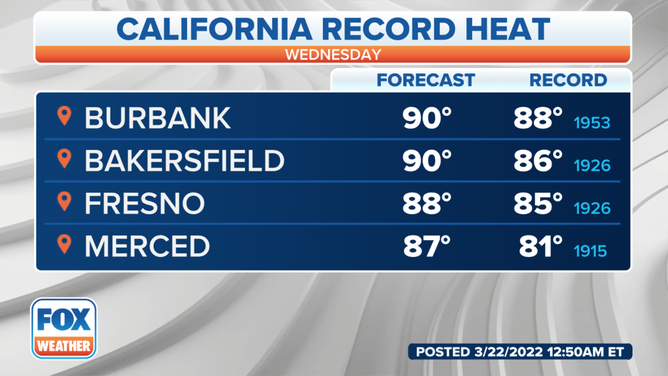 Heat 15 to 30 degrees above normal will stretch from Oregon, across California and into Nevada. San Francisco and Los Angeles will flirt with record highs.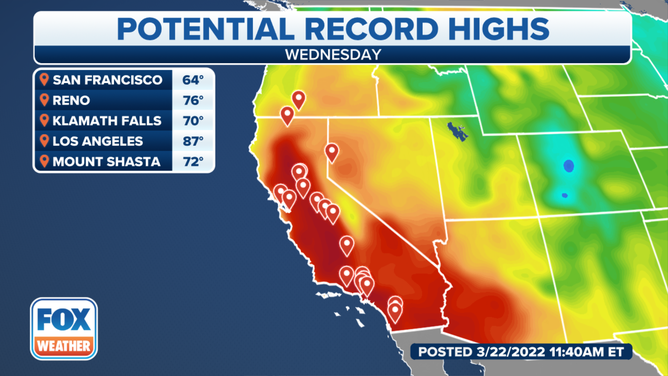 The warmth pushes south and east on Thursday. Inland cities will still see temperatures 20-30 degrees warmer than normal but the coast cools.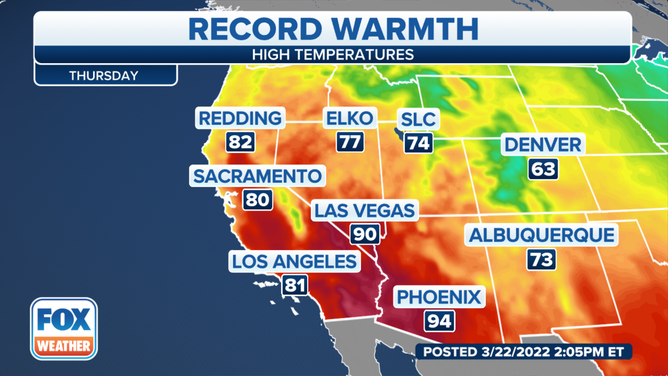 Phoenix and Las Vegas get the heat Friday as California and Oregon, still above normal for high temperatures, drop out of record-breaking range. Phoenix could tie their record high set in 1990 and is normally 81. Las Vegas, normally 74, is on pace to break their 1998 record of 89.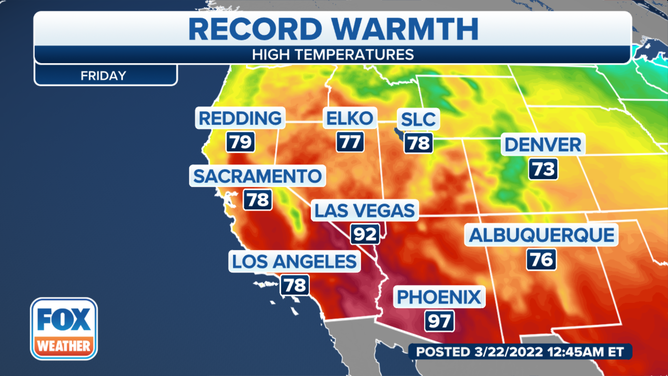 Where is the rain?
Californians are hoping for just a bit of rain from the area's next storm system starting on Sunday.

The increased cloud cover and the onshore flow will help to put a damper on the heat wave.
The National Weather Service shows drought persisting in much of the West through the end of May.