Fall fleeting as snow blankets parts of Wyoming, Utah
Top snow totals show more than 19 inches accumulated in Fort Washakie, Wyoming
FORT WASHAKIE, Wyo. – Fall is quickly fleeting in some parts of the Rockies as heavy snow fell Tuesday, bringing over a foot of snow to some parts of Wyoming. 
Top snow totals show more than 19 inches accumulated in Fort Washakie, Wyoming. In Dubois and Lander, 15 inches of snow was reported.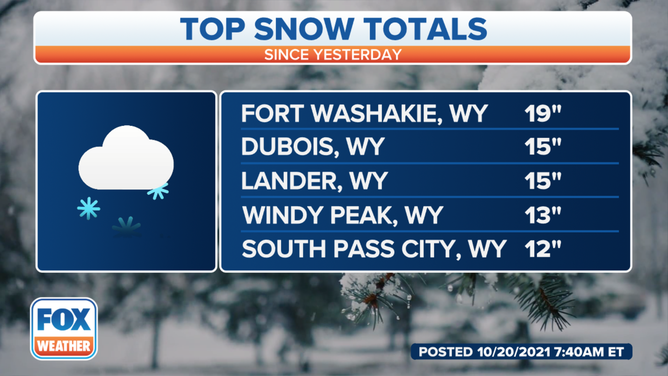 Outside the National Weather Service office in Cheyenne, Wyoming, "golf-ball sized snowflakes" were seen during a coalescence burst. The snow did not accumulate much there, but areas to the north and west of town saw some light accumulations.
The Wyoming Department of Transportation warned of dangerous winter conditions on roads in Albany County near Laramie and surrounding areas.
Winter Storm Warnings have since expired Wednesday morning, posted near Casper and Wheatland, Wyoming, as the rain and snow end across the region. The NWS said it should be warmer and dry through the rest of the week.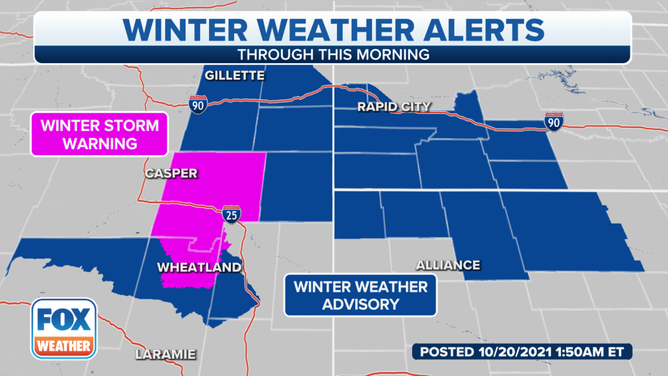 On Monday and Tuesday, winter conditions also affected parts of Utah, bringing rain and snow to higher elevations. The Snowbasin Resort in Weber County reported 10 inches of snow, according to the NWS.
Cottonwood Canyons, another popular ski resort in Utah, recorded several inches of snow overnight Monday into Tuesday.
The area of low pressure has now slid over the Northern Plains, spreading rain and snow as far east as Michigan. Areas of the Dakotas, Minnesota and Wisconsin will experience a 15-25-degree temperature drop.