Extreme cold grips Central US as arctic air spreads into Northeast
Wind Chill Advisories and Warnings are in place across parts of nine states, where wind chills will drop to 20 to 50 degrees below zero through Wednesday morning
Grab the heavy coat Wednesday morning because it's not just cold, it's really cold.
Wind Chill Advisories and Warnings are in place across parts of nine states, where wind chills will drop to 20 to 50 degrees below zero through Wednesday morning.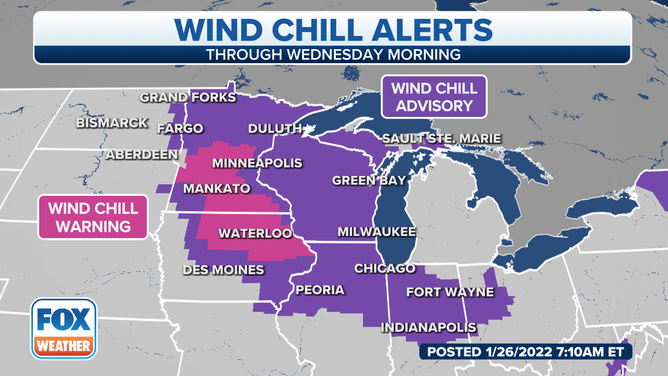 Frostbite will be possible in as little as 10 minutes.
The National Weather Service in La Crosse, Wisconsin, said as of 5 a.m. Central, temperatures in Black River Falls were recorded at minus 34 degrees, and it was minus 31 degrees in Sparta. They were not only the coldest in the local area but also the coldest in Wisconsin.
Temperatures will be 10 to 20 degrees below average. A few record-low temperatures are possible in eastern Iowa, where temperatures could approach minus 20 degrees Wednesday morning. More seasonable temperatures will return to the region Wednesday afternoon.
After a brief warmup to start the week, much colder air is expected across the Northeast through the rest of this workweek.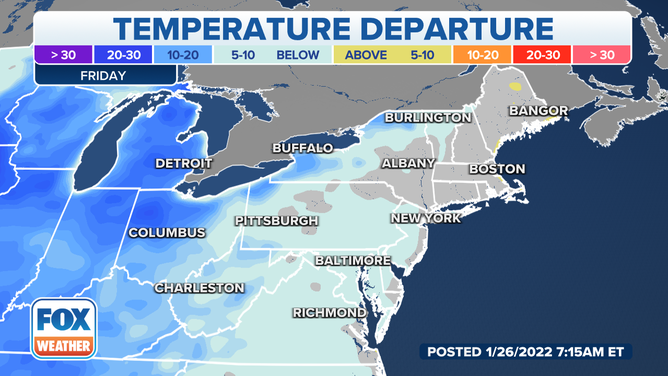 The coldest day will be Wednesday, with highs in the teens and single digits. Lows Wednesday night will be in the teens to below zero.