Drought, wildfires likely cause in mountain lion sighting uptick in California
About ten mountain lion sightings were reported this year in the San Francisco Bay Area, officials say
ROHNERT PARK, Calif. -- Wildlife sightings, especially mountain lions, in California have risen slightly over the last 16 months, and the drought and wildfires are likely contributing factors, officials say.
"Seeing more mountain lions is thrilling but doesn't need to because for concern about our personal safety. There's a lot we can do to be safe around them, and that we can do to keep them safe around us," said Josh Rosenau, a conservation advocate with the Mountain Lion Foundation.
October is often a time when we see more mountain lions because it's when cubs are getting big enough to head out on their own. Mountain lion cubs stay with their mom for 18 months to 2 years, then head off to establish their own territory. 
There's also been a serious drought in much of the western U.S. Areas burned by wildfires can be inhospitable to wildlife for years, forcing prey and mountain lions to adjust their home ranges.
"Because of human-caused climate change, mountain lions and their prey are having to travel farther for food, water, and shelter," Rosenau said.
Wildfires that tore through California last year have killed up to 600 mountain lions, according to a recent estimate reported by The Wildlife Society. Fires in the western state have burned more than 4 million acres of land, including land where mountain lions roam.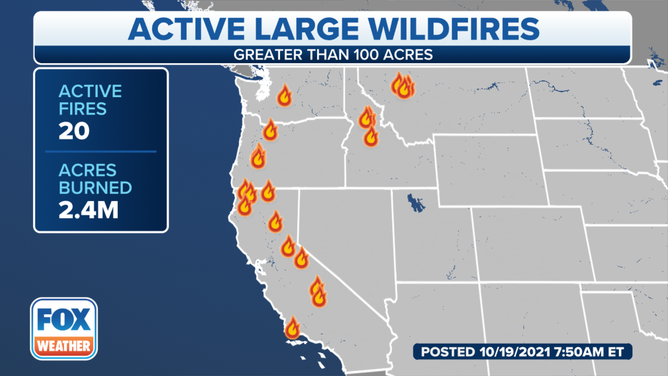 "The mountain lions were always there, and try hard to avoid people. When we choose a home close to nature, we should expect to see nature near our home, and take steps to make sure we are good neighbors to that wildlife," Rosenau said.
Rosenau says another thing that's happening is a proliferation of doorbell cameras and trailcams.
"Those cameras are revealing mountain lions that had always been present, but so well-hidden that no one knew it until there were cameras active all the time. Discovering that we have these hidden neighbors can surprise or even scare people, but it really shouldn't," Rosenau said.
Ken Paglia, public information officer with the California Department of Fish and Wildlife, covers the San Francisco Bay Area and says about ten mountain lion sightings were reported this year.
"We often see news stories about wildlife that begin with a resident taking a photo with their phones and posting on social media or sites like Nextdoor. It also seems like more people are getting home security systems and catching glimpses of wildlife, and sharing on social media," Paglia said.
On Monday, the most recent mountain lion sighting in California occurred in a creek bed near a known Rohnert Park wildlife corridor.
"The lion was actually in its home range, so it wasn't lost or out of place. There's wide open space just to the east of where it was seen," Paglia said.
The 5-year-old female lion was collared by a local researcher about a year ago. The lion is known to have neurological issues and was visibly unsteady on its feet, according to officials.
"Our department responded and with the help of the researcher and local authorities, the lion was tranquilized and taken to Sonoma County Wildlife Rescue where it is being assessed by a veterinarian," Paglia said.
If the lion is healthy enough, officials will release it back to its habitat. 
If the veterinarian believes its health issues would prevent it from surviving in the wild, we'll either have to humanely euthanize it or find a rehabilitation facility where it can be taken care of," Paglia said.
Officials say they should know more in the next couple of days.