Dozens involved in Michigan crashes during near Winter whiteout conditions
Driving conditions will be dangerous through Friday
KENT COUNTY, MI- Dozens of vehicles were reportedly involved in crashes near Grand Rapids, Michigan, as lake effect snow and ice-covered roads made driving conditions treacherous. 
A pile-up crash Wednesday afternoon on U.S. 131 was one of many reported throughout the day, and conditions were expected to deteriorate Thursday.
A winter storm warning is in effect through Friday at 10 a.m. for southwestern Michigan. According to the National Weather Service Office in Grand Rapids, heavy lake effect snow with up to 1 foot and gusting winds are expected from Muskegon south.
Blowing snow reduced visibility to near zero at times, and that's expected to continue through the Wednesday evening commute.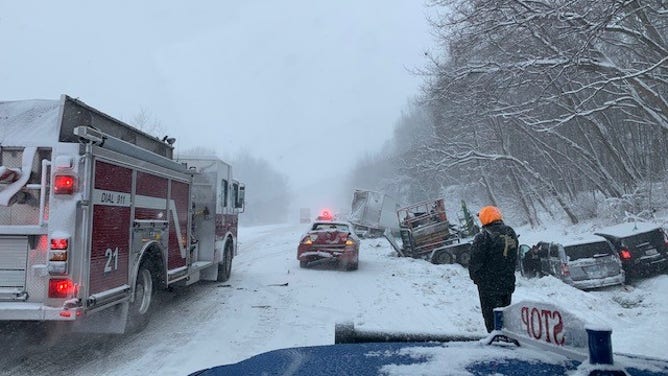 According to the Michigan Department of Transportation, the crash happened at 3:30 p.m. near Post Road exit 95 in the southbound lanes of U.S. 131. No significant injuries were reported, according to Michigan State Police.
Just an hour earlier, the northbound lanes of U.S. 131 reopened after a separate crash on the highway at 100th Street, reports FOX 17 West Michigan.
Michigan State Police also responded to a serious crash in Bay County on Interstate 75. 
Around the time of the latest crash, winds were sustained at 17 mph, and visibility was a quarter-mile. Conditions have deteriorated since Wednesday morning when visibility was up to 2 miles.
Grand Rapids has received more than 6 inches of snow.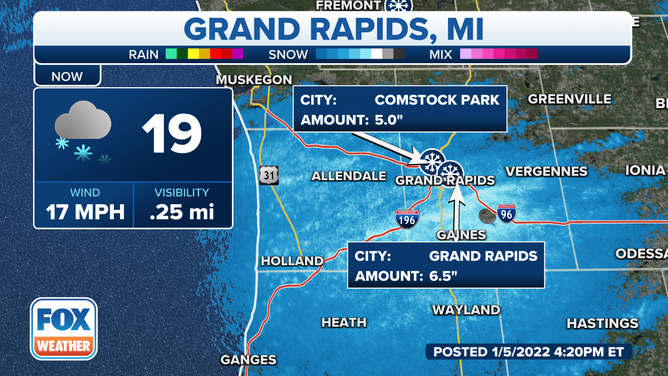 The NWS issued a winter weather advisory until 1 p.m. Thursday for cities including Grand Rapids, Lansing, and Battle Creek.
Further east, up to four inches of snow and wind gusts as high as 45 mph are possible. Wednesday night into Thursday afternoon, slippery road conditions and patchy blowing snow will make driving hazardous.
Drivers are encouraged to stay off the roads. If you must travel, keep extra food and water in your vehicle.