December storm could spawn severe weather in South on Sunday
There's potential for severe weather from Corpus Christi, Texas, all the way up into Memphis, Tennessee
Isolated thunderstorms are expected from the Arklatex to the northern Gulf States Sunday. 
From late Saturday night into early Sunday morning, there will be plenty of moisture working its way in from the Gulf of Mexico.
The collision of a low-pressure wrapping with cold air will pack a punch, creating a severe threat for portions across the South. 
There's potential for severe weather from Corpus Christi, Texas, all the way up into Memphis, Tennessee.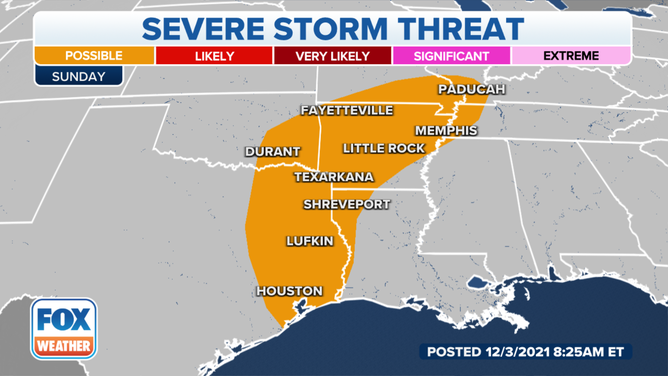 The instability will grow really over the next 12 to 18 hours, setting the stage for severe storms. These storms will bring damaging wind gusts, even some small hail. Forecasters will even be watching parts of southern Louisiana for the potential of strong storms.
NOAA's Storm Prediction Center has put areas from Houston, Texas, all the way up to Paducah, Kentucky, in the zone of severe thunderstorms.
Moisture is already starting to flow inland. With the boundary setting up between the cold and the warm air, it will shake up the atmosphere and the instability is set for as early as midday Sunday.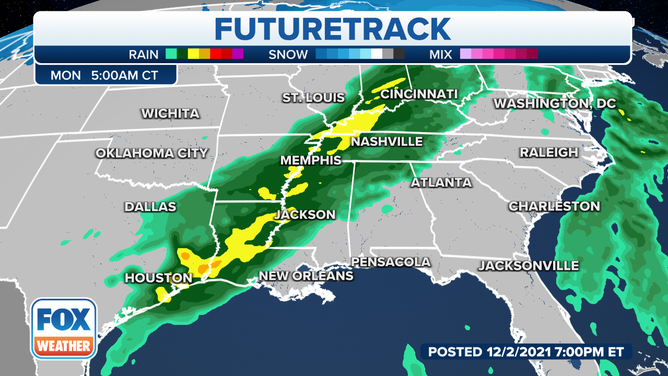 The storm will strengthen Sunday night and develop a secondary area of low pressure on the southern end. This portion of the main storm will bring the Missouri and Tennessee River Valleys a possible chance of severe weather.
The highest risk exists in Eastern Texas and Southern Arkansas where the best instability and lift are located.