Crews announce Kruger Rock Fire is fully contained
Investigators believe the fire started after a tree became entangled with power lines.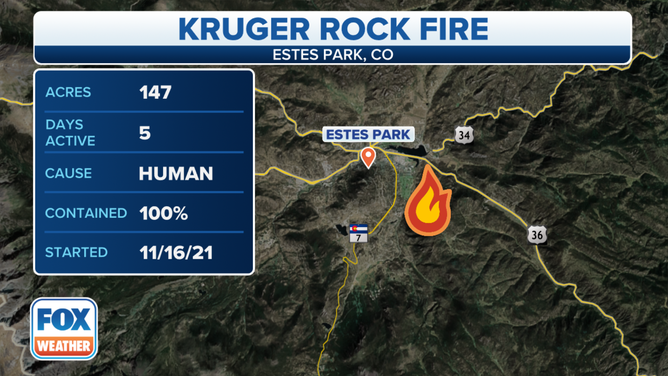 ESTES PARK, Colo. – Firefighters announced Saturday that the 147-acre Kruger Rock Fire burning near Estes Park, Colorado is fully contained.
Officials believe the fire started Tuesday morning after gusty winds blew a tree into power lines, sparking the blaze.
The Larimer County Sheriff's Office initially issued mandatory evacuations for nearby parks and residences, but all notices have since been lifted.
On the first day of battling the flames, a pilot of an air tanker was killed after his plane crashed during a night mission.
The 59-year-old veteran pilot was the only reported fatality during the 5-day fire fighting operation.
Even though winds could be gusty during the next several days, meteorologists don't expect the levels reach to reach the criteria for any type of fire weather alerts to be issued.
Nearly all the Mountain West is experiencing drought conditions, which experts warn could lead to the breakout of additional fires.