Surfing Santas ready to paddle out on Christmas Eve after pandemic pause
Cocoa Beach's unique Christmas Eve tradition returns in person this year
COCOA BEACH, Fla. – Hundreds of surfers dressed in Santa suits and wetsuits will paddle out on Christmas Eve in Cocoa Beach, marking the return of the in-person Surfing Santas event after a pandemic hiatus. 
It all started with one Santa in 2009 with local surfer George Trosset. His daughter and son-in-law dressed as elves paddled out with Santa. The family affair gained more St. Nick surfers the following year, becoming Surfing Santas. 
Over the past decade, the event unique to Cocoa Beach has become a Christmas Eve tradition like no other, drawing thousands of spectators. Even other counties have adopted the idea.
The official event with live music, hula dancers and a customer contest kicks off at 7:30 a.m. Christmas Eve. Although surfers will be in the water up and down Cocoa Beach, the official event happens at the end of Minuteman Causeway on the beach in front of Coconuts on the Beach. 
On Friday, Mr. and Mrs. Claus, their elves – and maybe some reindeer- will have smaller waves. 
"It's going to be small, but it's going to be surfable," Surfline Lead Forecaster Mike Watson said.

Wave height will be between 1 and 2 feet, with the occasional waist-high waves between 3 and 4 feet. A longboard or paddleboard won't have any problem with the smaller waves. 
"It's definitely gentle, user-friendly surf that will allow more people to participate," Watson said.
The one thing working against Jolly St. Nick on a surfboard will be high tide around 10:30 a.m. Cocoa Beach surf spots tend to favor a lower tide, explained Watson. According to the Surfing Santas website, the Santas will begin the paddle out around 10 a.m.
Spring wetsuits might be a good idea under those Santa reds. A low-pressure system brought a lot of rain, and the water temperature is around 70 degrees. It could drop further by Friday, according to Watson.
The whole surf forecast will be updated on Surfline.com, including the water temperature closer to the event.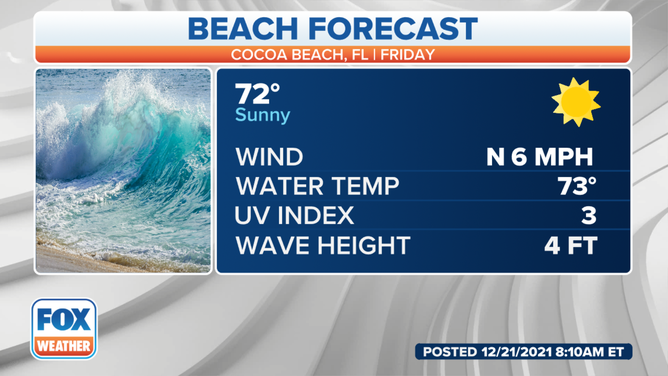 Watson said it doesn't look like the weather could get any better outside of the water.
It will be a nice day for spectators to get out and watch Santa hang ten. Temperatures across the Space Coast Friday will warm to a high of 72 degrees.
Carpooling, biking and walking are recommended because parking is limited in downtown Cocoa Beach. Before you leave for the beach, remember what you carry in must be carried out.
For a full rundown of the event, visit surfingsantas.org.
Purchases tied to the event go toward the Florida Surf Museum and Grind for Life, a nonprofit that provides financial and emotional support for cancer patients.