Californians face dismal snowpack in Sierra Nevadas
The snow that was on the ground in early April is likely going to be gone in a little over two weeks.
SODA SPRINGS, Calif. – There's something missing in the Sierra-Nevada Mountains. The beginning of April is when snowpack is typically at its highest in the Sierra.
But this year, the amount of snow is way below normal, and that has major implications for the drought out West.
The snow that was on the ground in early April is likely going to be gone in a little over two weeks.  Usually, snow would stick around until mid-May to early June. An impending heat wave this week is only going to accelerate snow melt.
Low snowpack means there will be less water available for creeks and rivers, and less water in reservoirs that are already running dry.
That means less water available for cities and agriculture across California and the West.
"There are so many strains on our water supply, from increased population, from low water years, from just about anything you can imagine happening in the state including to a degree increased agriculture," said Andrew Schwartz with UC Berkeley Central Sierra Snow Lab. "And so when we get this type of snow pack and these low years like this it means that we're really going to have to conserve and it becomes a concern because we're going to have to start cutting water somewhere --especially with these successive years of drought."
It's also likely going to spell another rough fire season here after a winter of extreme swings in the weather.
WINTER WHIPLASH: SIERRA NEVADAS GO FROM RECORD SNOW TO RECORD DRY
October and December saw big snowfall totals, but then there were very dry periods in between -- and not much snow at all since the beginning of this year.  The UC Berkeley Central Sierra Snow Lab, which set snowfall records this winter during some storms, now only has a snowpack at about 1/3 of what it would normally be.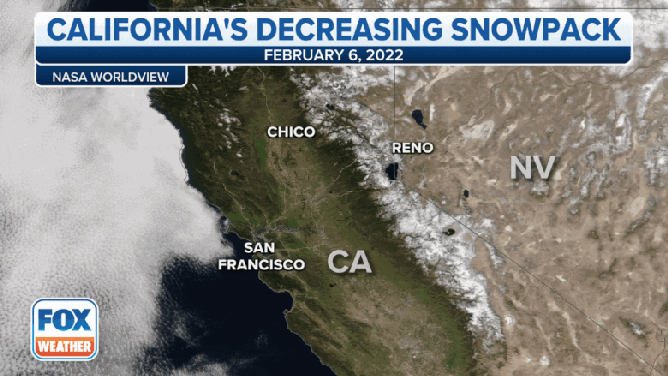 "A lot of what we see is natural variability," Schwartz said. "The climate has always had variability in it and always will. But climate change is absolutely making this variability more severe. So we see these wetter storms occurring and we see these drier periods of drought that exist for longer and are more severe. So it's a little bit of both. We can't blame it all on climate change, but it's definitely not just due to natural variability."
So what can we do?  
Scientists say water conservation is going to be key out West.  That means taking showers instead of baths and getting rid of lawns.
More broadly, scientists also say there needs to be more uniform policies about how water is used in this part of the country.