California fires: Nearly 60 new blazes attributed to lightning strikes, evacuations issued
Only a quarter of the state is facing dry or drought conditions, which is a better position than during the last several fire seasons, where most communities reported dry soil and tinderbox conditions.
SACRAMENTO, Calif. – Waves of monsoonal moisture impacting California are leading to an increase in lightning strikes, causing wildfires to erupt throughout the state.
Data from CAL FIRE and the U.S. Forest Service showed nearly 50 new blazes on federal lands and nine that firefighters from state agencies were working as of Wednesday.
National Weather Service forecasters said an uptick in moisture from the Desert Southwest's monsoon helped kick off the lightning that was also met with warm temperatures and gusty winds, causing conducive fire weather.
Counties from Northern California to the U.S.-Canada border were under fire weather alerts, warning that the combination of strong winds, low humidity and warm weather could contribute to extreme fire behavior.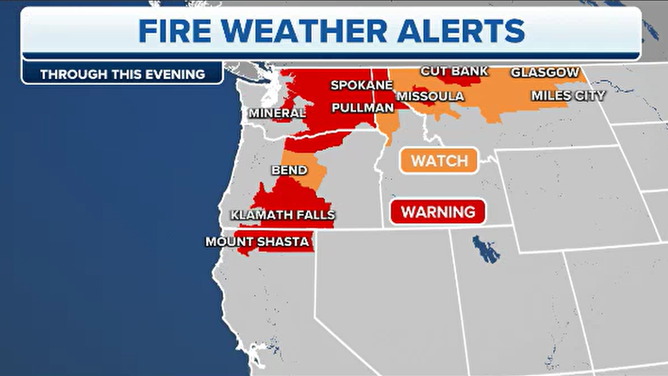 Firefighters said due to a quiet start to the wildfire season, plenty of crews were available to quickly respond to blazes which helped to keep many of the fires confined to only a few acres.
"We have quite a bit of equipment available to respond to new fires that are coming. We have seen much busier times with fires than we are in right now," a CAL FIRE spokesperson stated.
One of the areas most impacted by lightning-caused fires appeared to be Siskiyou County along the California-Oregon border.
The Siskiyou County Sheriff's Office said at least 20 fires were burning in the Klamath National Forest, including the largest currently in the Golden State - the Head Fire.
HOW AI IS BEING USED TO FIGHT WILDFIRES IN CALIFORNIA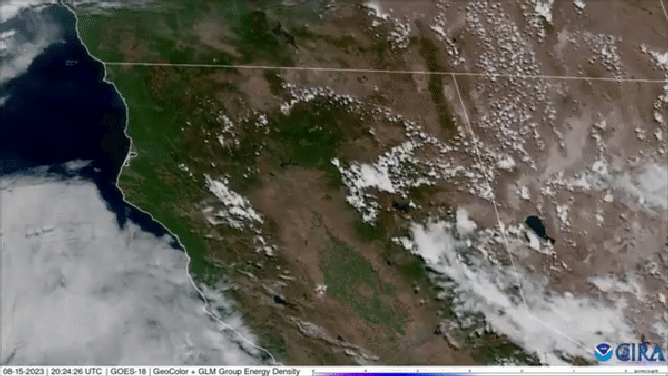 Head Fire is the most concerning
Authorities are assembling a federal management team to take over the response to a large fire burning south of the Oregon border in the Klamath National Forest.
At last report from the U.S. Forest Service, the Head Fire had burned nearly 4,000 acres, and firefighters were still working to try to contain the blaze.
The Siskiyou County Sheriff's Office said several evacuation notices were issued to the west of Yreka, where shelters for both residents and livestock were located.
A spokesperson for the U.S. Forest Service said fire activity has been less explosive than the nearby McKinney Fire that destroyed more than 60,000 acres in 2022.
Four people were killed, and nearly 200 buildings were either damaged or destroyed during what was considered to be one of the largest fires of the year.
The combination of the Head Fire and several other lightning-caused blazes has forced more than 90 miles of the Pacific Crest Trail to be shut down through the Klamath Mountains.
WORLD'S LARGEST SIREN WARNING SYSTEM STAYED SILENT DURING DEADLY HAWAIIAN FIRES
Coyote Fires forces evacuations
Authorities warned a fire east of San Diego quickly grew on Thursday, forcing evacuations and the closure of an elementary school in Potrero.
Firefighters said at least 200 acres burned as dry brush helped contribute to the fast spread rate.
Authorities have not said how they believe the fire started, but the region could receive increased rainfall over the next associated with Hurricane Hilary.
Firefighters aware of possible impacts tropical cyclone Hilary
NWS meteorologists are watching the movements of Tropical Storm Hilary in the eastern Pacific but believe the worst of the winds will likely stay well south of Northern California, sparing the region where recent fires have popped up.
"We might get some moisture from storms up here, but as far as the wind, that's not as big of a concern for us. Southern California is certainly keeping a watchful eye on it, but they're also expecting rain," the NWS said.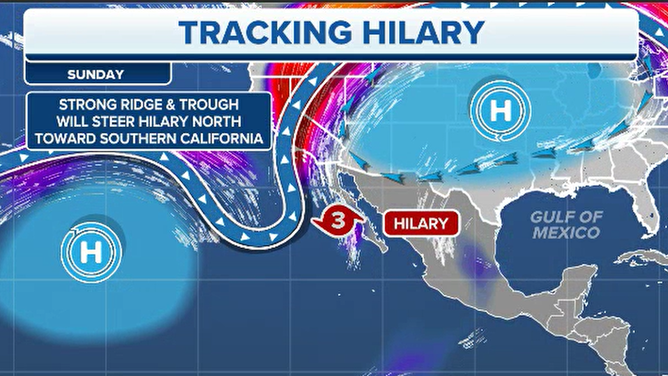 Tropical cyclones are known to deliver drought relief in the form of heavy rainfall but can also help fan the flames with gusty winds.
Hawaii recently experienced the indirect impacts of a hurricane, with Category 4 Dora, passing more than 500 miles to the south but still close enough to be in the battle zone between a ridge of high pressure and the storm's associated low pressure.
The pressure gradient between the two weather systems was believed to be one of many ingredients that helped spread dry air and wind over the islands, causing deadly brush fires.
A CAL FIRE spokesperson said they are regularly in communication with the NWS but have seen anything so far that would suggest they need to adjust their operations to contend with any tropical weather impacts in Northern California.