California Dixie Fire sparked by PG&E power lines, investigators reveal
Investigators: PG&E responsible for Dixie and Camp fires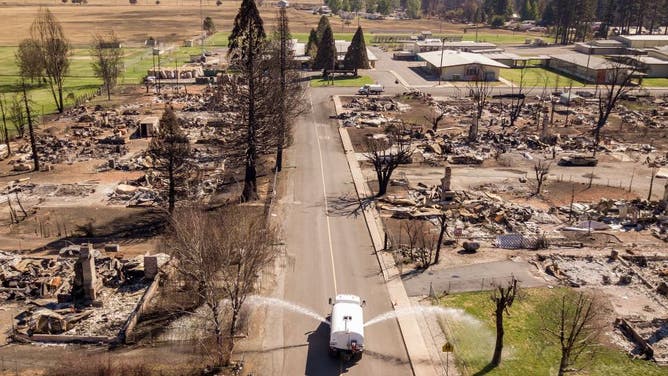 BUTTE COUNTY, Ca. – The California wildfire responsible for burning nearly 1 million acres between the Summer and Fall of 2021 was caused by trees connecting with Pacific Gas and Electric power lines.
Investigators with the California Department of Forestry and Fire Protection (Cal Fire) released their findings on Tuesday after completing the seven-month investigation. 
The Dixie Fire started on July 13, 2021, and scorched 963,309 acres, destroyed 1,329 structures and damaged 95 additional structures throughout Butte, Plumas, Lassen, Shasta and Tehama counties, according to CAL FIRE. Crews fully contained the fire in late October 2021.
Investigators have been working to determine the exact root of the wildfire.
"After a meticulous and thorough investigation, CAL FIRE has determined that the Dixie Fire was caused by a tree contacting electrical distribution lines owned and operated by Pacific Gas and Electric (PG&E) located west of Cresta Dam," Cal Fire said in a news release.
PG&E previously disclosed to the California Public Utilities Commission that its power lines could have sparked the fire, reports The Associated Press.
The power company has previously been found responsible for wildfires in California, including the 2018 Camp Fire, which killed 85 people and is the deadliest in the state's history.
The Shasta County District attorney filed criminal charges against PG&E for the 2020 Zogg Fire that claimed four lives.
PG&E CEO Patti Poppe said in a September statement the company accepted Cal Fire's determination that the Zogg Fire was started by the company's electric lines but said: "we did not commit a crime."
"Today's climate and unprecedented drought have forever changed the relationship between trees and power lines," Poppe said. "And please know we're not sitting idly by. We have established a new standard for our lines and the vegetation near them because it poses such a real risk to our communities."
Since 2019, PG&E has preemptively shut off power when severe weather and high winds are forecast.
The company has expanded its weather forecasting, installing weather stations across Northern California with plans to have one station for every 20 miles.
The CAL FIRE findings have been sent to the Butte County District Attorney's Office.