California to deal with some snowmelt flooding by diverting water
Both the San Joaquin River Basin and the Tulare Lake Basin are being monitored for flooding. Local officials requested Kern River floodwater be allowed into the California aqueduct to reduce flows into the Tulare Lake Basin.
BAKERSFIELD, Calif. – The California Department of Water Resources is dealing with an issue it hasn't faced for decades – where to put all the water from a historic snowpack season in the Sierra Nevada.
California Gov. Gavin Newsom extended an executive order Wednesday that allows more water to be diverted from waterways for groundwater recharge efforts statewide.
One of the impacted streams is the Kern River which officials expected to increase its flow into the California Aqueduct to reduce the flooding threat along the Tulare Lake Basin.
The region is home to some of the largest agricultural productions in the state, with grapes, cotton, corn, alfalfa, almonds and pistachios being important crops in the southern San Joaquin Valley.
SEE THE MASSIVE BOULDERS BLOCKING CALIFORNIA'S MAIN ROUTE TO YOSEMITE NATIONAL PARK
In 1977, the U.S. Army Corps of Engineers built a transmission line to direct water from the Kern River to areas farther south in the Los Angeles region, but the infrastructure has rarely been used.
"With flooding impacts expected to continue into the summer, California is committed to supporting robust preparation, response and recovery efforts in this hard-hit region, and to using floodwaters to recharge our critical groundwater supplies where it's safe to do so," Newsom said in a statement. "We'll continue working with local partners to protect lives and livelihoods on the ground while advancing investments to protect communities throughout the state from future flooding."
According to National Weather Service meteorologists, when the Kern River relief valve is used, they do not ancipitate efforts will trigger additional flooding issues downstream.
WHAT SEASON DO FRUITS AND VEGETABLES GROW IN?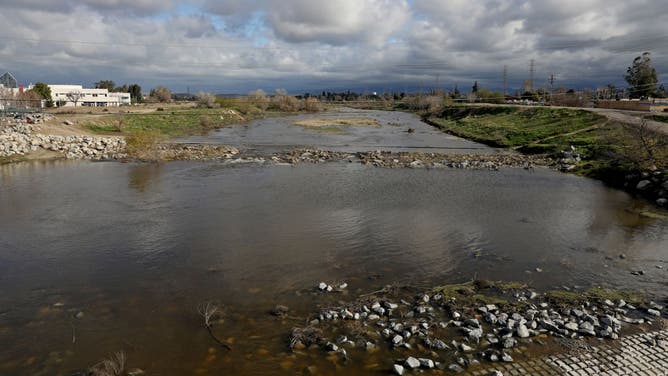 In California, a typical runoff season lasts from May into June, but with the volume of snowpack during the 2022-23 winter, the season may last into August.
It's estimated that more than 75% of residents in the Golden State consume water from the Sierra Nevada region, and critical watersheds would run dry without the runoff.
Local NWS offices have issued flood alerts along several creeks, streams and rivers for the threat that warm temperatures will exacerbate runoff during the upcoming week.
Weather Alerts across the U.S.
 
---