2 hikers killed after flash flooding impacts Utah canyon
The over 16-mile-long Buckskin Gulch canyon is susceptible to quick rises in water levels and has been deemed by numerous outdoor publications as being one of the country's most dangerous trails. In March, flash flooding led to the rescues of more than a dozen people.
KANE COUNTY, Utah - Deputies in southern Utah have announced they have recovered the bodies of two hikers who were swept away by sudden flooding over the weekend.
The Kane County Sheriff's Office identified the duo as 65-year-old Gary York from West Chester Township, Ohio, and 72-year-old John Walter from Kettering, Ohio.
According to a sheriff's office news release, the men last spoke to relatives on Saturday afternoon and informed family members they were about to embark on a hike into Wire Pass and Buckskin Gulch.
 The canyon region is susceptible to flash flooding, and it is believed the hikers were caught off guard by rapidly rising waters and carried for miles downstream.
Search and rescue teams recovered their bodies in different locations near the Utah-Arizona state line on Sunday and Monday.

2 DEAD, MORE THAN A DOZEN RESCUED AFTER CANYON FLASH FLOODING CATCHES HIKERS OFF GUARD IN UTAH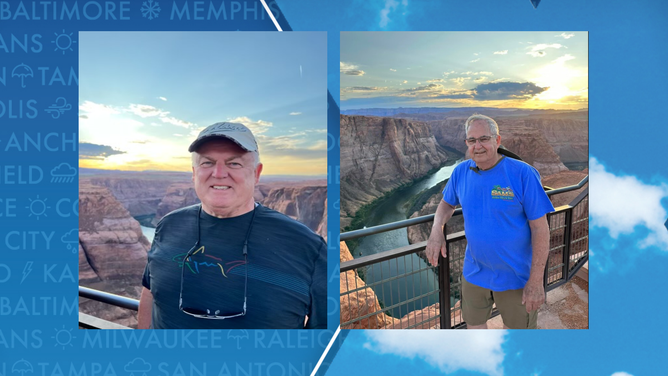 "Again, we have witnessed the relentless power and danger of flash flooding in Kane County's slot canyons. Our condolences got out to the York and Walter families," KCSO Lt. Alan Alldredge said in a statement.
Numerous outdoor publications have deemed the over 16-mile-long Buckskin Gulch canyon as being one of the country's most dangerous trails and was the site where two Florida men were killed and more than a dozen rescued in March.
The enhanced flooding risk is likely a product of what locals say has been an abnormally wet winter and spring.
Data from the FOX Forecast Center showed the region experienced between 110-200% of average snowfall during the winter, with lower elevations seeing above-normal rainfall.
The Bureau of Land Management requires permits for hikers, and the sheriff's office encourages all groups to have a GPS device that is waterproof and capable of withstanding the extremes in case a rescue is needed.
UTAH'S FIRST FEMALE RESCUE PILOT BECOMES A HERO