Blowing snow may create whiteout conditions as clipper darts across Midwest
The system will be lacking moisture, so only light snow amounts between 1 and 5 inches are expected
A weak low pressure will scoot across the northern tier of the country on Saturday.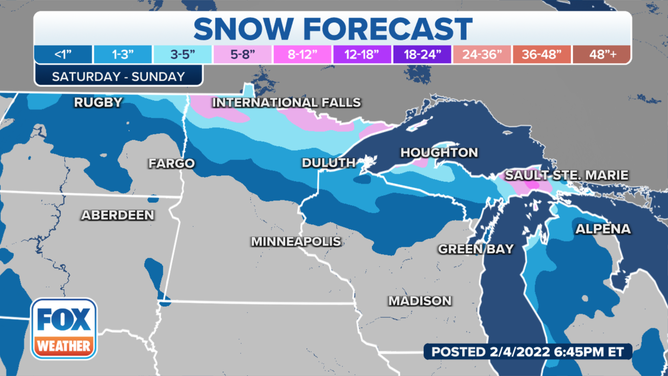 The system will be lacking moisture, so only light snow amounts between 1 and 5 inches are expected. Wind will be a bigger concern with gusts in excess of 40 mph likely.
The combination of the wind and snow could lead to whiteout conditions across parts of North Dakota and northern Minnesota. A Winter Weather Advisory is in effect for northern Minnesota as the snowy clipper moves across the region.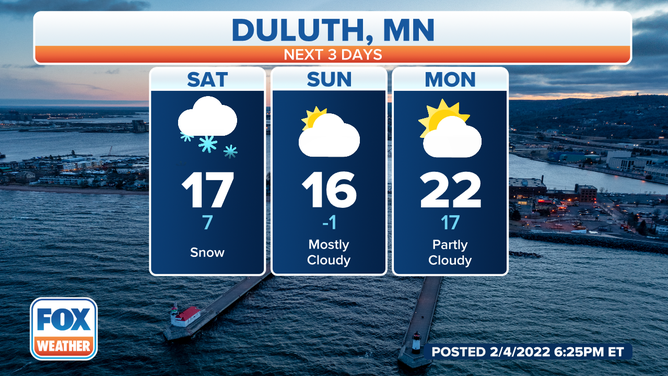 The National Weather Service in Duluth, Minnesota, said snow started falling by 7:15 a.m. Central Saturday morning with visibilities falling to around 1 to 2 miles across northeast Minnesota. Visibility was starting to drop across northwest Wisconsin as well. 
Roadways were becoming partially snow covered according to the Minnesota Department of Transportation. 
The NWS said the snow will continue to increase in intensity and coverage Saturday morning with the bulk of the snow falling late-morning into this afternoon across the region. The heaviest snowfall rates are expected to spread in from the west and transition up towards the North Shore. Some lake enhancement along the North Shore could see some localized areas of 6-plus inches.