Big warmup to send record December temperatures soaring into weekend
Texas will feel the warmth first with highs in the 80s expected Wednesday, which will likely result in numerous record highs
DALLAS, Texas – December has been one of the warmest starts of the month for most of the country.
Temperature departures of 20 to 30 degrees above average stretch from border to border and include 28 individual states. It's enough to be a top-10 record-warm start to December for hundreds of locations.
The National Weather Service said the warming trend is due to an anomalous upper-level ridge of high pressure building downstream of a jet stream dip in the West.
Texas will feel the warmth first with highs in the 80s expected Wednesday, which will likely result in numerous record highs. Daily high-temperature records are likely to be topped throughout Oklahoma and Texas again Thursday when the mercury will reach the 70s and 80s.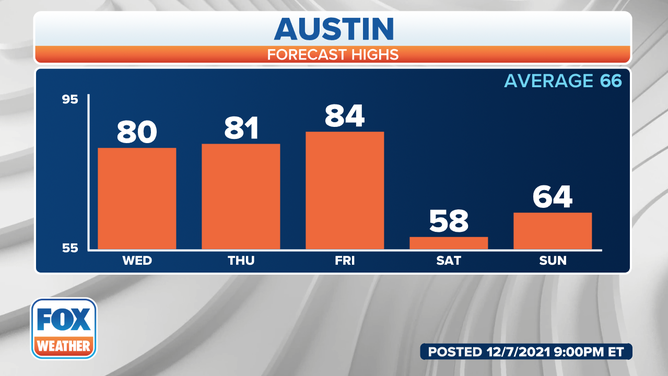 The warm air then spreads east and north, with temperatures in the 60s resulting in record highs from the mid-Mississippi Valley to the mid-Atlantic states through Saturday.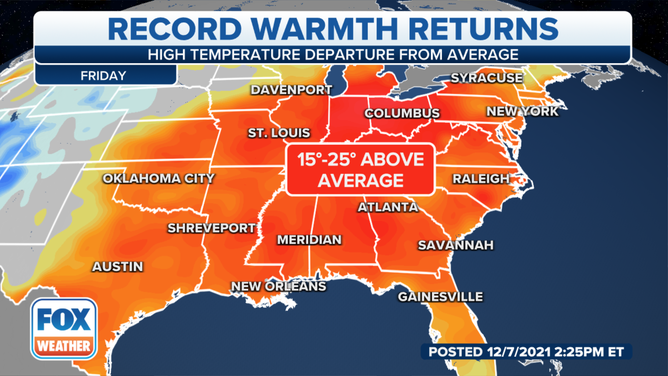 There are 75-plus record highs that are in jeopardy on Friday and Saturday across the central and eastern U.S.