Communities devastated following raging Arizona Tunnel Fire
The aftermath in Flagstaff, Arizona, from the Tunnel Fire has reduced homes to rubble as hundreds of firefighters work to contain the flames
FLAGSTAFF, Ariz. – The Southwest is dealing with a high fire weather threat as dry and windy conditions persist.
Numerous wildfires broke out across Arizona, New Mexico and Nebraska in the last few days.
The aftermath in Flagstaff, Arizona, from the Tunnel Fire has reduced homes to rubble as hundreds of firefighters work to contain the flames. Arizona's governor has also declared a state of emergency.
Containment is currently at 20% as firefighters continue to secure the fire's perimeter and remove any heat near the control lines. As of Wednesday morning, the Tunnel Fire is 19,344 acres.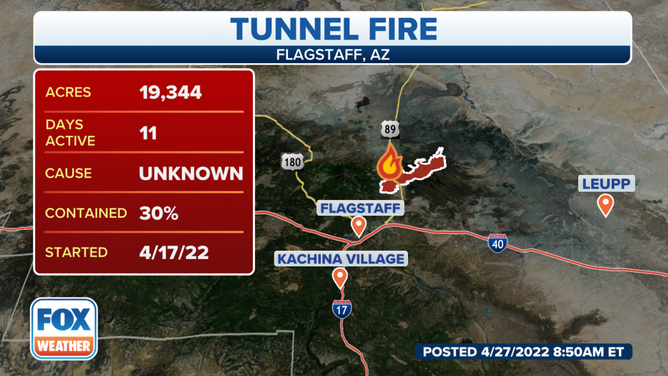 On the south and southwest portions of the fire, authorities said crews have patrolled the areas that have been determined to be contained and began returning equipment no longer needed on the fireline so that it can be refurbished and available for future use. 
On the northern and northeastern portions of the fire, helicopters are dropping water on hot spots within the fire perimeter to assist ground-based firefighters working to increase containment.
Gusty southwesterly winds are expected to be up to 35 to 40 mph on Wednesday and Thursday for east-central and northern Arizona. Temperatures will reach the mid-70s, with relative humidity values in the lower teens. Critical fire weather conditions are expected to continue through Thursday night when the current weather pattern moves out of the area.

Authorities said the 420 fire personnel working the fire are prepared for an increase in wind speeds and will focus their efforts in the Black Mountain and Strawberry Crater Wilderness, as they continue to remove any remaining heat near the control lines. 
Crews in these areas will continue to be supported by helicopter bucket drops as weather conditions allow. 
The Coconino County Sheriff's Office said that an estimated 109 properties were impacted by the fire, including 30 residences that were burned and 24 properties with outbuildings destroyed.
Information about evacuations is updated online at the Coconino County Tunnel Fire page. The county has also established a Coconino County Tunnel Fire Call Center at 928-679-8525.
The Coconino National Forest has instituted a forest closure order for the area affected by the Tunnel Fire.