Skiers' delight: Another round of heavy mountain snow comes to the West
After feet of snow this weekend, the Rockies could see two more feet by the end of the week.
Skiers in the West, start making weekend plans. 
Up to two feet of snow is expected in the higher elevations across Colorado, Utah and Wyoming. This comes as a strong cold front out of Canada is coating the Northern Rockies with a few inches Tuesday morning.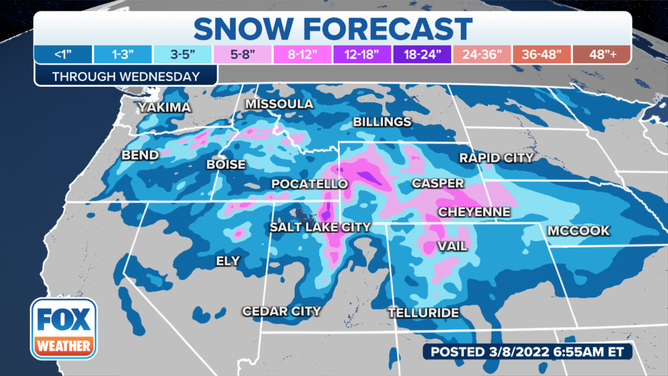 Heavy snow has already started falling. The National Weather Service issued Snow Squall Warnings to a few counties in Montana on Monday evening. A snow squall is an intense, short burst of wind and snow that can cause whiteout conditions. 
WHAT ARE SNOW SQUALLS AND WHY ARE THEY DANGEROUS?
Through Wednesday, higher elevations of Montana, Wyoming, Northern Idaho and Northern Utah could see over a foot of snow while the lower elevations will see 3-6 inches. 
The heavy snow shifts south Wednesday and Thursday and stretches from the Intermountain West to the Southern Plains. Idaho, Colorado and Wyoming's mountain peaks could see 1-2 feet of new snow. Lower elevations like Denver, Salt Lake City, Albuquerque and Cheyenne could see up to 6 inches.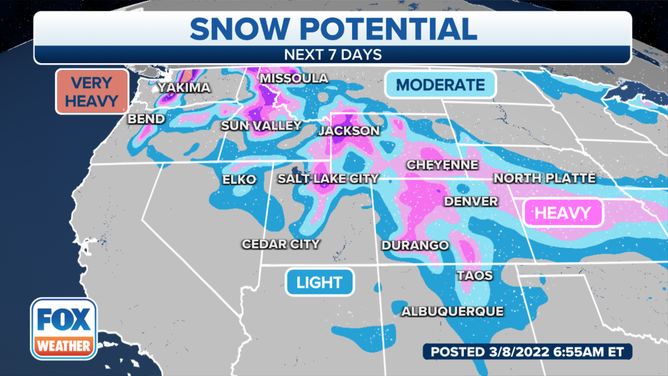 Skiers, prepare to bundle up though. Temperatures will drop 20-30 degrees below average behind the front.

This is much needed precipitation. Areas of the intermountain West have only received half to 90% of their average snowfall to date.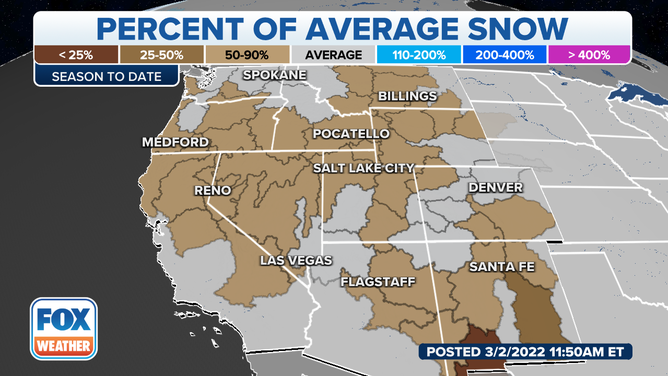 Just this past weekend, some Colorado ski resorts saw almost two feet of new snow while Denver saw inches.
The winter weather also caused a multi-car crash closing both directions of Interstate 25 in Denver for hours.