Another foot of snow for California mountains yields treacherous travel
'Mountain travel is highly discouraged,' the National Weather Service said
Gusty winds and heavy snow have created near-whiteout conditions for the Northern California mountains, making travel treacherous across the area. As snow fell on Wednesday, the National Weather Service recorded a 69-mph wind gust in Amador County at Kirkwood Meadows and a 56-mph gust in Alpine Meadows near Tahoe.
Multiple big-rig spin-outs from the snow forced the California Department of Transportation, Caltrans, to close Interstate 5 between Weed in Siskiyou County and Fawndale (near Redding), with no detour available.
A Caltrans spokesperson shared video Wednesday of the near-blinding snow that drivers on Interstate-5 in Butte County, California, faced.
Caltrans closed Interstate 80 through the mountains from Truckee, California, to the Nevada state line for hours on Wednesday after a major injury accident in the blowing snow. 
The snow continues to fall on Thursday, with up to a foot of new snow predicted for Mount Shasta and the coastal ranges and locally up to 2 to 3 feet. The Sierra Nevada is expected to receive 12 to 18 inches. Even the foothills could get 3 to 18 inches of snow and up to 1 to 2 feet locally. The National Weather Service issued a Winter Storm Warning for the Northern California Mountains until 10 a.m. Pacific time Thursday.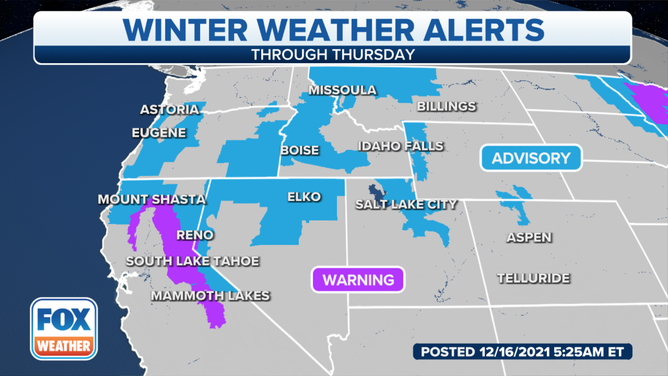 Tahoe ski resorts will be flush with new powder heading into the weekend after this snowfall and the 4 to 6 feet that fell from the atmospheric river earlier in the week.
SIERRA NEVADA SEES MORE THAN 50 INCHES OF SNOW SINCE WEEKEND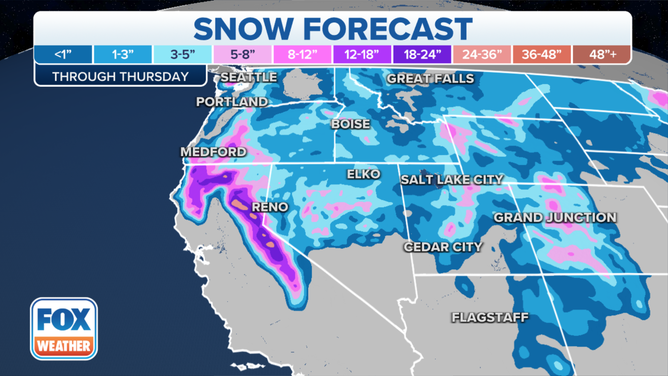 Drier weather moves in for the remainder of the week in California.