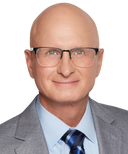 Tom Niziol
FOX Weather Winter Storm Specialist
Tom Niziol currently serves as a FOX Weather contributor and winter storm specialist. He joined FOX Weather in December 2022.
Tom has been fascinated with snow since his childhood days in Buffalo, NY. Coming from one of the snowiest places on earth, he developed a passion for the winter season and all things related to snow over his 40+ year career.  That career began as an Associate Atmospheric Scientist for Calspan Corporation in Buffalo, where his research field work took him to many remote places including Iceland, Alaska, the Pacific Ocean and Gulf of Mexico. He then expanded his passion into forecasting the weather in what evolved into a 30+ year career with NOAA's National Weather Service office in Buffalo. There he held various positions including Lead Forecaster, Science Officer and Meteorologist-In-Charge.  During his tenure there, he also developed methods and software to aid in the prediction of lake-effect snow.
After retirement from NOAA, Tom was able to share his enthusiasm for winter weather by educating viewers through the lens of a camera, as the Winter Weather Expert at The Weather Channel from 1012 through 2019.   
He has authored several publications in atmospheric science journals on winter weather topics, especially in regards to his expertise, lake-effect snow. Tom has been a guest lecturer on winter weather forecast techniques for several years with UCAR's COMET Program in Boulder Colorado. He teamed with Canadian forecast counterparts to initiate the annual Great Lakes Operational Meteorology Workshop, an international conference to expand forecast knowledge and techniques for Great Lakes weather. He was a forecaster for both the 1996 Summer Olympics in Atlanta as well as the 2000 Winter Olympics in Salt Lake City.  He has contributed to numerous science documentaries on networks including the BBC, History Channel, Discovery Channel and Dateline NBC. 
Tom is also the recipient of several awards from NOAA, the National Weather Association (NWA), and the American Meteorological Society including the Francis W. Reichelderfer Award for research leading to substantial improvement in the prediction of snowstorms influenced by the Great Lakes. He holds a B.S. in meteorology from SUNY Oswego.
You can learn more about Tom's weather passions at his blog itsallweather.blogspot.com