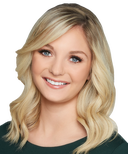 Haley Meier
FOX Weather Meteorologist
Haley Meier serves as an on-air meteorologist. She joined the platform full-time in July 2023.
In April 2022 Meier was named FOX Weather's first scholarship recipient in partnership with Mississippi State University, where she attended school. As a recipient, Meier completed an internship and freelanced for FOX Weather. While at Mississippi State, she served as a weekend morning meteorologist for WTVA-TV in Tupelo, Mississippi. In this capacity, she provided weather forecasting, which includes creating informative graphics as well as engaging with the community on behalf of the station. Meier was a treasurer of the East Mississippi Chapter of the National Weather Association and American Meteorological Society, the Vice President and Commander of Mississippi's Chapter of The Hidden Opponent Organization and played on the Mississippi State women's soccer team.
She graduated from Mississippi State University with a degree in broadcast meteorology in 2023.