Zoo animals keep cool in Australia's summer heat
Temperatures in the southern part of Australia reached the mid-80s while areas in the northwest of the county saw temperatures well above 100 degrees.
ADELAIDE, Australia – Animals in some of Australia's zoos are beating the arrival of summer's heat thanks to the help of employees.
Some of the lucky animals that got a douse of some refreshing water included birds at the Adelaide Zoo and southern white rhinos at the Monarto Safari Park.
Zookeepers said birds try to stay cool by raising their feathers up and allowing water to run between them.
SHARKS AND TARPONS AND MANATEES, OH MY!
Another of the birds' favorite treats during the warm months is ice. The Adelaide Zoo said sometimes workers will even put fruit inside the frozen treat to make it more delectable during the summer heat.
Residents and animals alike in the Southern Hemisphere have a long way to go to get out of the heat.
Temperatures across the continent are just starting to warm up as areas in the Southern Hemisphere enter summer.
Australia's Bureau of Meteorology says the hottest week for most of the country typically occurs in December or January.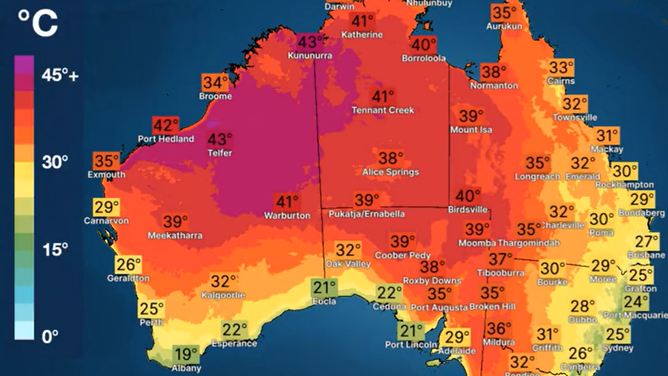 Temperatures on Wednesday ranged from the 60s along the immediate southwestern coastline to well over 100 degrees in the desert northwest.
The country's meteorological summer runs through February.